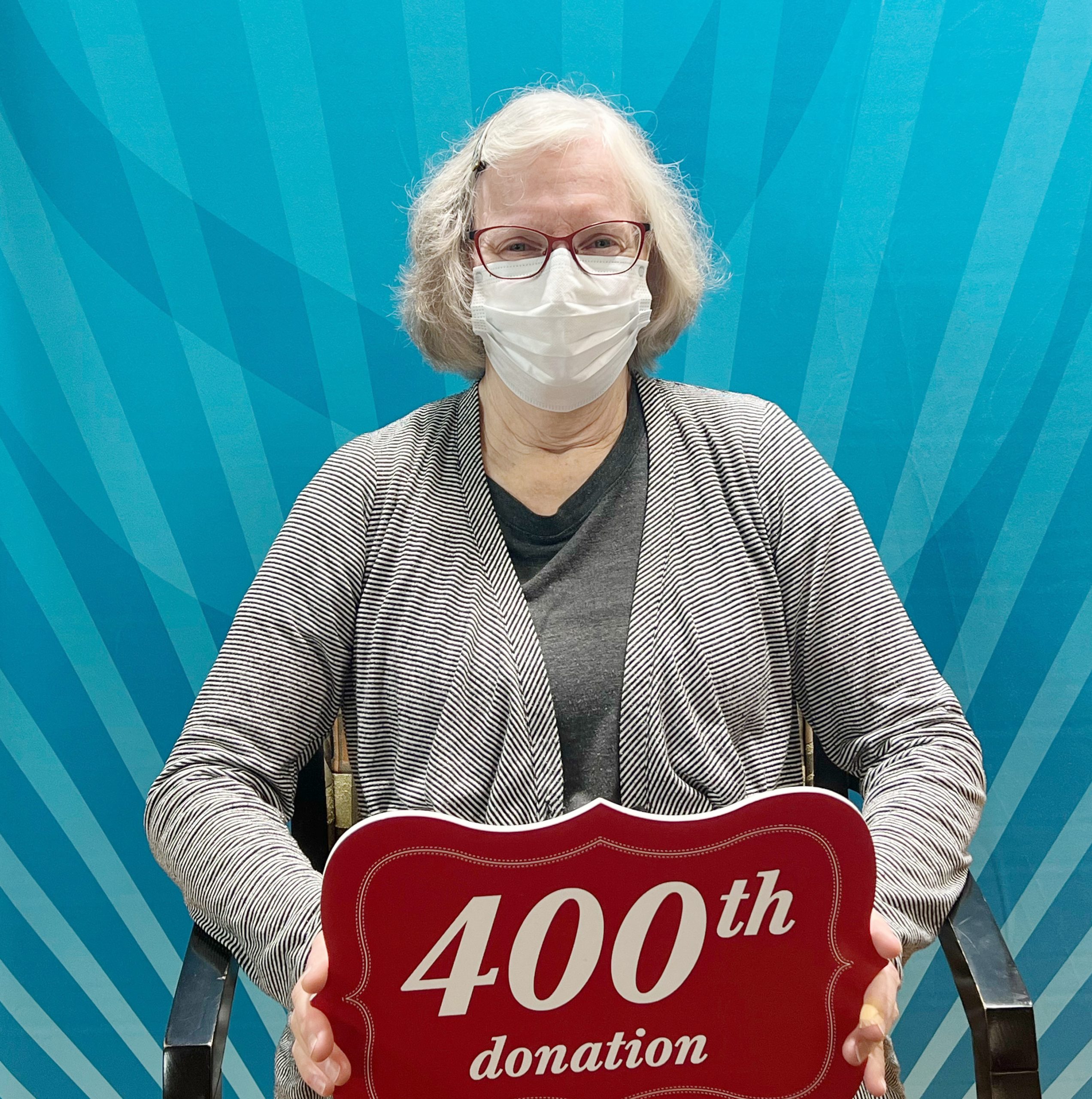 Here at SBC, we love celebrating our incredible milestone donors and their impact on helping support patients in our community. One of those heroes is Valerie McGuire, who recently made her 400th milestone donation. Public Relations Officer Ross Coyle interviewed the Menlo Park resident about what inspires her to donate and what keeps her coming back all these years.
What does your 400th blood donation mean to you?
It was a very happy day to know that I had reached that milestone donating mainly platelets for these many years. The staff celebrated along with me and wrote very kind notes of congratulations!
What led you to donate blood the first time?
The first time that I donated blood was in 1971 in Toronto when a mobile unit came to the hospital where I was doing my dietetic internship. A few of us decided that it was time to donate, and going together made it easier. Part of the experience was to see inpatients, some of whom had relied on receiving blood transfusions.
Why do you donate?
Like many of us, I donate because I would like to help those who need blood donations for whatever health reason. I also know a couple of people who benefited from transfusions.
What keeps you coming back all these years? 
I have great veins and a high platelet count, so it is easy for me to give. Once I am in the chair, my donation takes about 60-70 minutes. Since I have been coming to the blood center for so long, I appreciate the staff and the care they give their donors. It is not a glum place and there is laughter!
Did you ever think you'd be donating so long that you would reach 400 donations? 
I made my first donation at Stanford Blood Center, then on campus in 1997, a few months after starting to work at the Stanford University School of Medicine. The first couple of times, I gave whole blood donations, which you can give 6 times a year. I then received a letter from the center asking me if I would like to donate platelets. From then on, I have only donated platelets. Initially, I could give 24 times per year (now 18 times a year). Since I was donating more frequently, I then reached the 100 milestone. Then, I realized that it was possible to reach 400!
Why do you donate at Stanford Blood Center?
Since I was working on campus just down the road from the campus site, it was easy for me to walk down to the center. When the blood center moved to Menlo Park, that was still easy for me since I live in Menlo Park and could drop by before heading home.
What has the experience been like for you?
Since I was comfortable giving blood, that aspect of the experience has been fine. The staff are always welcoming, caring and considerate. Over the years, I have gotten to know many of them well. I have always had my appointments later in the day. In recent years, since I am a regular, my appointments are made 6 months out which is very convenient for me. Of course, we can now make and cancel our appointments, and answer the pre-appointment questionnaire online before the appointment which is very convenient.
What would you say to potential first-time donors who may be on the fence about donating blood?
The first time I gave blood, I did so with some trepidation. However, the more times I gave, the more relaxed I got. I feel perfectly fine after a blood donation but generally take it easy for the next 24 hours as the guidelines suggest.