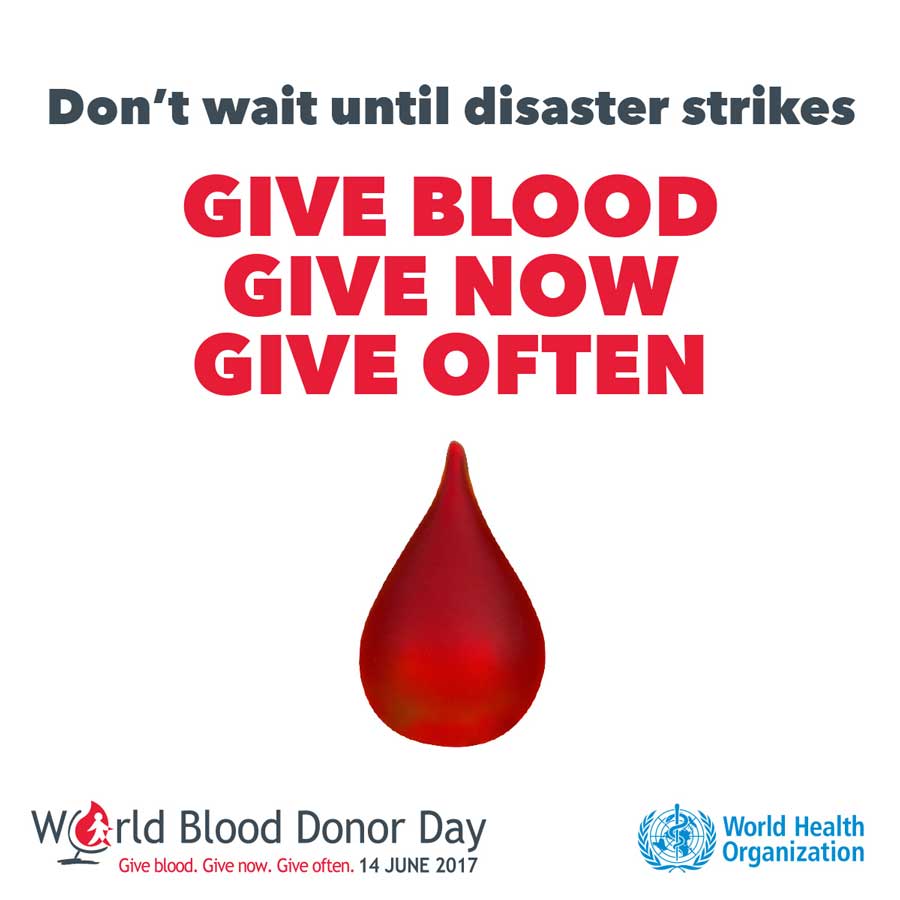 Join Stanford Blood Center in celebrating World Blood Donor Day (WBDD) on Wednesday, June 14, 2017! If you are already a donor, please accept our sincere thanks and consider making your next appointment. If you haven't donated blood yet, this is a great time for your first visit to one of our centers or mobile drives! You'll become part of an international focus on saving lives through blood donation.
Who established WBDD? WHO, that's who! In 2004, the World Health Organization introduced June 14 as the day to celebrate and raise awareness for safe blood products and donations from healthy donors around the world. The date was chosen because it's the birthday of Karl Landsteiner, the "father of transfusion medicine." He is the scientist who discovered the ABO system and won the Nobel Prize for the discovery in 1930.
Each year, a new slogan is chosen for the campaign. This year's focus is on the emergencies that require blood products around the world, throughout the year. The slogan is "What can you do? Give blood. Give now. Give often."
Blood donation and transfusion safety varies throughout the world. WHO collects data from countries reflected by high-, middle- and low-income status.
70 countries report collecting fewer than 10 donations per 1000 people. Of these, 38 countries are in WHO's African Region, 6 in the Americas, 6 in the Eastern Mediterranean, 5 in Europe, 6 in South-Eastern Asia and 9 in the Western Pacific. All are low- or middle-income countries.
Globally, women give 28% of blood donations, although this ranges widely. In 16 of the 119 reporting countries, female donors give less than 10% of donations.
More young people donate blood in low- and middle-income countries than in high-income countries.
In 72 countries, more than 50% of the blood supply is still dependent on family/replacement and paid blood donors (11 high-income countries, 45 middle-income countries and 16 low-income countries).
16 countries are not able to screen all donated blood for 1 or more of the infections WHO recommends be mandatory: HIV, hepatitis B, hepatitis C and syphilis.
Part of WHO's purpose in creating awareness for blood donation is to help improve blood safety and availability. Its Blood Transfusion Safety program provides policy guidelines and technical assistance to countries' national blood systems with the aim of self-sufficiency.
Want to help promote the campaign? Visit the official World Blood Donor Day website to find graphics and facts to share on social media!
Sources
http://www.who.int/en/
http://www.who.int/mediacentre/factsheets/fs279/en/