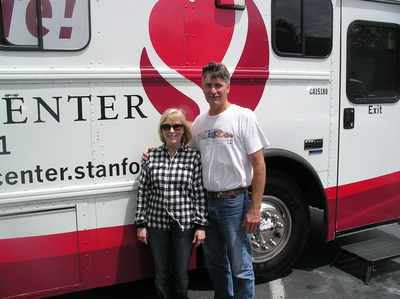 By Monica Doleshel-Aguirre, Blood Drive Account Manager, Stanford Blood Center
Midge Zylker had a goal to start a community blood drive in her Rose Garden neighborhood to make it convenient for the residents to donate blood on a regular basis. Being a realtor and nurse by profession, she used her network connections by contacting Fred and Debbie Zanotto, owners of Zanotto's Market in San Jose's beautiful Rose Garden. Midge, pictured above with her husband, Randy, shared with them her goal, and asked them to allow Stanford Blood Center to park a bloodmobile in front of their store two or three times a year to host community blood drives. Fred and Debbie, being friendly local family store owners, and very conscientious about the needs in their community, graciously agreed and the Rose Garden community blood drive was born.
Starting with three blood drives a year in 2006, the drive soon proved to be a wonderful service to the community. Midge worked hard canvassing the neighborhood and local businesses by providing them with posters about upcoming blood drives and advertising in the local Rose Garden newspaper. Between her efforts and the continuous support from Zanotto's Market, the need to have the drives more frequently soon grew. In April 2008, Stanford Blood Center increased the Rose Garden community drives to four times a year. Since these drives started in 2006, we have collected over 620 units, and welcomed over 100 first-time blood donors.
When Fred and Debbie opened their new store in Willow Glen approximately a year ago, he asked us if we would be interested in running blood drives at his new location. We of course jumped at the opportunity and now run three blood drives annually at Zanotto's Market on Foxworthy Avenue in the Willow Glen area of San Jose.
Midge's husband, Randy, and Fred and Debbie Zanotto are regular donors at these drives. They truly understand the need for blood and are making sure they do their part to help meet the needs of the patients in our local hospitals.
If you're interested in hosting a blood drive with Stanford Blood Center, please contact Karen Hendryk at karenhendryk@stanford.edu.