By Dayna Myers, Marketing Communications Manager, Stanford Blood Center
Around the world today, nations will celebrate blood donors in honor of World Blood Donor Day. In Iran, a trio of cyclists will wind up a 17-day challenge ride from the Iranian Blood Transfusion Organization in Tehran to the Ankara Blood Bank. Nigeria's Health Minister marked the occasion by donating blood in Abuja. And in Korea, this year's host country, the celebration began in February, when over 3,000 people donned red and broke the Guinness World Record for the world's largest human blood drop formation.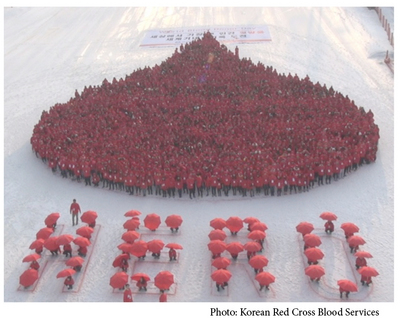 This year marks the 8th World Blood Donor Day, organized by the World Health Organization (WHO), under the theme "Every Blood Donor is a Hero"—a statement that rings true here at Stanford Blood Center, where we see the impact our donors make on countless lives.
In honor of World Blood Donor Day, we'd like to offer our heartfelt thanks to all of our extraordinarily compassionate and committed donors. On this day, we would also like to offer special thanks to our donors who recently donated points from our online loyalty store to Safe Blood Africa, an organization that is dedicated to improving blood donation safety in Nigeria.
In fact, WHO hopes that World Blood Donor Day will help highlight the need for all nations to develop systems built on voluntary blood donors, particularly in developing countries, where donors are very limited and governments struggle with the expense and technical challenges of maintaining a safe blood supply.
Voice of America shared the photo below of children receiving blood transfusions in Pakistan, and noted that in poorer countries, blood supplies are often limited. Rather than relying on a pool of volunteer blood donors, recognized as the safest system, donors often give blood only when relatives or friends need a transfusion.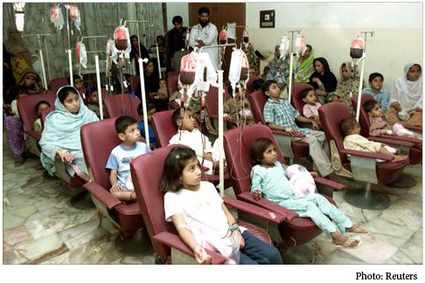 And yet, many countries are making great progress toward the goal of increasing voluntary donations. For example, according to WHO, Sri Lanka's National Blood Transfusion Service has transformed from a single room in a hospital to state-of-the art facilities at a national center in Colombo and five other centers, along with 70 hospital-based blood banks. Sri Lanka ended paid donation in 1979, and now collects 87 percent of its supply from voluntary unpaid blood donors. Regular blood donors receive membership cards that recognize their commitment at four levels – red, silver, gold and platinum.
You can read more about blood donation success stories in the Cook Islands, Haiti, Iran, and Vietnam as well, on the World Health Organization's website.
Thank you, blood donors everywhere!