By Julie Ruel, Social Media Manager, Stanford Blood Center
Earlier this year, we added a new option to our online store, offering donors a unique way of spending the points they earn through their donations. In addition to the usual thank-you gifts such as apparel, athletic gear, and coupons, donors had the opportunity to donate their points to help support Lucile Packard Children's Hospital (LPCH) and The Safe Blood Africa Project.
You may have noticed these options no longer appear in our online store. Not surprisingly, the kindhearted spirit of a blood donor doesn't end when the needle comes out. The overwhelming response in number of point donations had our allotted funds for these programs maxed out within a few months. But these donations have gone a long way.
We've been able to provide LPCH with gift cards to be used for special items for patients in long-term isolation. Colette Case, Director of Child and Family Life Services at LPCH (pictured below) happily accepted the cards from us. "Some of our stem cell patients are in isolation for 4-6 (or even more) months and it is quite a challenge to make sure they have the crafts, games and other supplies they need to reduce the effects of this long term isolation on their development. We're so thankful for the continued support of Stanford Blood Center and its generous donors."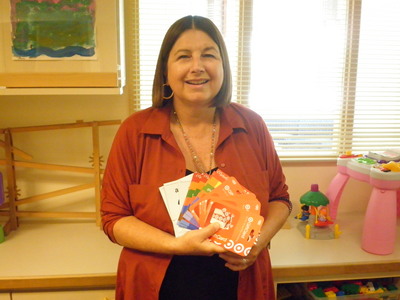 In addition, the point donations have gone to work for The Safe Blood Africa Project. The organization, based out of California, is dedicated to improving transfusion medicine in Nigeria by providing such items as lab equipment, vehicles for blood drives, and comfortable donor beds. The point donations from our blood donors have allowed us to contribute to the Project, ultimately supporting their goal of providing a safe blood supply in Nigeria.
We hope to offer a similar program for our blood donors in 2013 – please stay tuned!