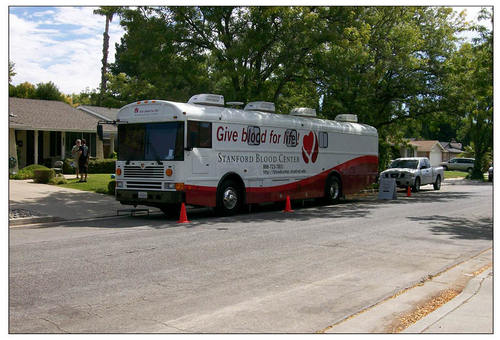 By Deanna Bolio, Public Relations Associate, Stanford Blood Center
Stanford Blood Center Bloodmobiles travel thousands of miles each year to collect donations at mobile blood drives. They stop at businesses and schools, churches and hospitals. But you might be surprised to know that on rare occasions you can even catch these buses on quiet residential streets, parked next to yard sale signs and driveway basketball hoops. These community blood drives, often associated with a particular patient or blood recipient, offer a unique opportunity for a community to come together for a good cause.
"Working on community drives is truly one of the most rewarding aspects of my job," said Tim Gilmore, Stanford Blood Center Account Manager. "I really enjoy working with the families and patients who benefit from blood donations."
One of the first neighborhood blood drives began in 2009. Bob and Cristal Hernandez wanted to come up with a way to honor their daughter Ava, who passed away at four years old due to neuroblastoma, a highly aggressive form of cancer that typically affects infants and children. Cristal reached out to Stanford Blood Center and the inaugural "Ava's Blood Drive" took place in their quiet San Jose neighborhood shortly after. Nearly 400 units have been collected in association with Ava's Blood Drive, now in its fourth year.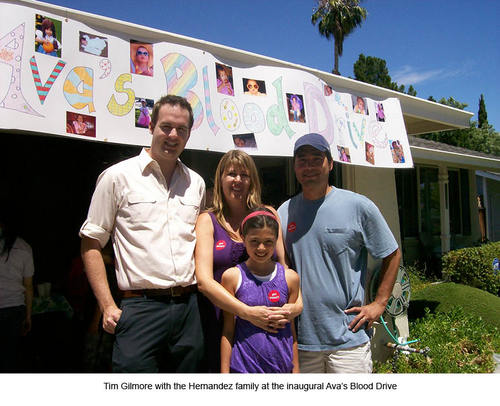 The following year, Dianna and Tim Murphy began hosting the "Pay it Forward" blood drive at their home in San Ramon as a way to honor their son Kevin's second chance at life. At 12, Kevin's health declined rapidly over the course of a month, which doctors determined was the result of cardiomyopathy, a weakening of the heart muscle. Kevin would need a life-saving heart transplant, which he received in February 2009. He is now a healthy teenager.
The first "Pay it Forward" blood drive was held one day prior to the first anniversary of Kevin's surgery. The response to the blood drive was so great, the family decided to make it an annual event.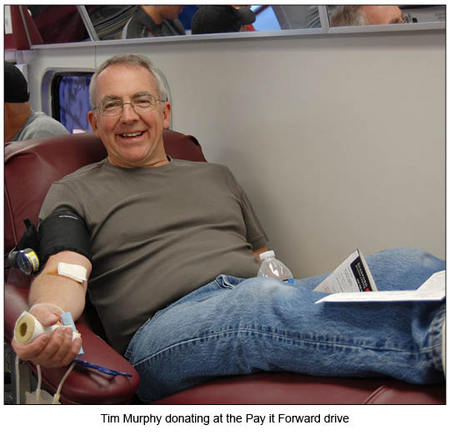 "Our community is so amazing and so supportive," Dianna said. "I had a feeling that the blood drive would be successful, but I had no idea of the magnitude. The next year we had two buses."
Donors at neighborhood blood drives include not only friends and family, but also coworkers, neighbors and even passersby. One married couple donating at a "Pay it Forward" drive were not familiar with the Murphy family, but were moved to donate by their own personal experiences with blood recipients.
"Seeing a community pull together to support a great cause is always a very humbling experience," Gilmore said.