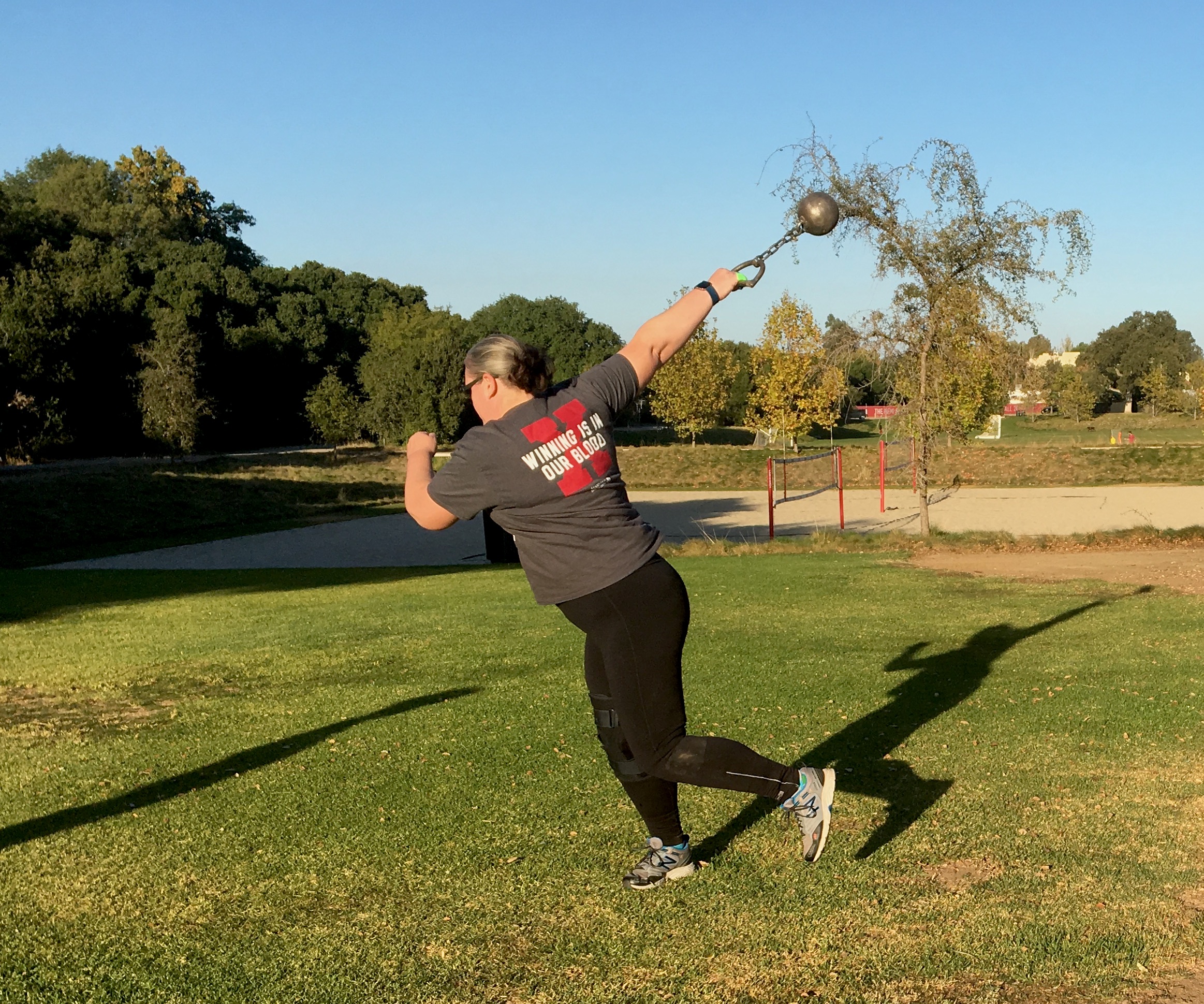 The Highland Games are a unique Scottish athletic competition dating back to around the fifth century in Scotland. The Games involve a series of eight individual events, some of which are changed out each competition, though the typical mainstays include a light and heavy weighted throw for distance, a light and heavy stone throw, a light and heavy hammer throw, a caber (big log) toss and weight for height (thrown over a bar). And while the Games by design are centered around tests of strength and agility, competitions are also remarkable for their celebration of Scottish culture and heritage. Highland Games are often surrounded by entertainment such as sheep dog demonstrations, bagpipes and drums and traditional dancing. Scottish clan representation and genealogy information can be featured as well.
While the Highland Games may seem like a completely foreign world, no one knows this world better than SBC's own Bethany Owen, Apheresis Coordinator and world-ranked competitor in the Highland Games. Bethany was first introduced to the Highland Games in 1998. Even before her involvement with the Games, she frequented Renaissance and Celtic festivals, and one day in her chiropractor's office, she ran into a man wearing a t-shirt from a festival she had attended. She struck up a conversation with him by mentioning his shirt, and he told her that he competed in the Heavy Athletics.
The man suggested Bethany give the athletics a try, which she did. "I went out with him to a high school and threw there. I'm six feet tall — there are not usually many girls bigger than I am competing — so I picked it up quickly and dominated pretty early on," she said. As time went by, Bethany and a few others gradually collected a small unofficial group together called the Cardinal Highland Athletics Club. While the events are always an individual competition, the group of Stanford staff and students use their time together to practice and coach one another. It's also a great way to forge stronger bonds between athletes.
"My favorite thing about the games is the people," said Bethany. "Because everyone does each event, you're with the same people all day long and you build great relationships. I could say I was going to a random game in any month pretty much anywhere in the U.S., and I'd immediately have multiple dinner invitations and a place to stay."
The Highland Games athletes don't just come together over events, however. "We have Facebook pages where people will offer to host others affected by fires, people will set up personal GoFundMes in times of need, someone will post that so-and-so is in the hospital and will arrange meals to be taken to them… It's such a strong community that even if I couldn't throw, I would still participate in some way because the people there are so amazing."
This past November, Bethany had the chance to rejoin that community for the Masters World Championship in Tucson, Arizona. In order to compete in this exclusive event, participants had to have qualified with high enough scores at other events throughout the year. After doing particularly well on her heavy weight for distance throw and caber toss, Bethany came in sixth place overall for her division internationally!
Fun Facts
The cabers (big logs) used in caber tosses have no standard height and weight. A log of an approximate size is found, prepared by trimming, sanding and finishing, painted and weighed and measured. The goal is for about half of the competitors to be able to flip the caber. Bethany often carries her own practice caber around on top of her truck!
When Pixar was producing the movie Brave, they frequented Highland Games competitions to help craft the script for the competition in the movie. Bethany was interviewed as part of this process, and she even got to perform as part of the live entertainment at the local Pixar opening party.
Some of the more unusual events added to various Games include keg tosses for height or distance, an anvil toss, frying pan toss and even a fish toss!
Most Highland Games are associated with a Celtic festival, and one of the largest ones outside of Europe is held annually in Pleasanton.