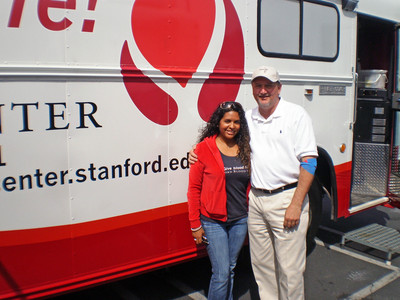 By Tim Gilmore, Blood Drive Account Manager, Stanford Blood Center
When you think of Paul Newman, you probably think of the Hollywood legend. But when you say "Paul Newman" at Stanford Blood Center, people think of the Paul B. Newman Neighborhood Blood Drive. Paul, pictured above with SBC's Xiomara Hernandez, is an extremely passionate and dedicated Blood Drive Coordinator. Rain or shine, Paul is out greeting donors and making everyone feel welcome.
Paul's connection to blood donation began in 2003, when he and his son were involved in a car accident on Highway 85. They were struck by another vehicle going 100+ miles per hour, causing their car to roll-over at extremely high speeds. Paul and son were rushed by ambulance to a trauma center where, fortunately, their injuries turned out to be minor.
Through the help of some friends, Paul and his son were able to meet their ambulance drivers, Heather and Adam. When asked what they could do to give back to the community, they both responded, "Give blood as much as you can."
And for the past eight years, that's exactly what Paul has been doing. He not only hosts his neighborhood blood drive twice a year, but assists in coordinating two drives a year at his workplace. The Paul B. Newman Neighborhood Blood Drive has collected 3,744 units since its conception.
This past Saturday, Paul hosted his 16th blood drive with us and brought in close to 120 units of blood – an outstanding number for a neighborhood drive. Thanks, Paul, for your ongoing dedication and commitment to our cause!