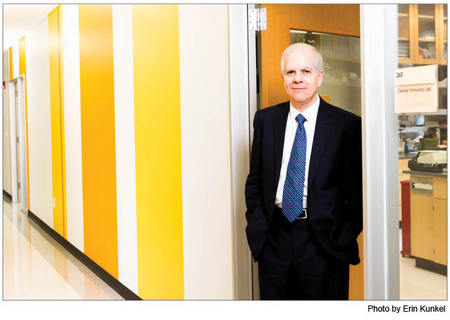 By Ruthann Richter, Director of Media Relations for the department of Communications & Public Affairs at the Stanford School of Medicine
Ed Engleman, MD, Stanford Blood Center's director, strode briskly into the large lecture hall at UC-San Francisco, eager to describe the screening test he and his colleagues had just developed – a test they thought could help save the nation's blood supply from a looming threat.
It was October 1983, Engleman was 29, and a bizarre, deadly agent was percolating in the population. It had first surfaced among gay men, leading to uncommon cancers, pneumonias and other infections, some of which had rarely been seen before in humans. But the mysterious microbe would soon invade the broader population and present a massive public health threat, becoming an epidemic for all time. The source later came to be known as the human immunodeficiency virus, or HIV – the cause of AIDS.
Faced with the unknown, blood bank officials nationwide resisted Engleman's plea to test blood donors, with the result that at least 20,000 transfusion recipients – surgery patients, hemophiliacs, new mothers and their babies – would become infected with HIV. Few, if any, would be patients who received blood at Stanford, where the screening test likely saved at least 33 people from an AIDS death.
The experience would make him a pariah in the blood banking community and reset the course of his career, which would shift to AIDS. It would also lead to a transformation of the blood banking industry. The blood supply, then vulnerable to potentially dangerous agents, would ultimately become much safer, though much more costly to maintain, as a result of the crisis, Engleman says.
To continue reading, please click here.