By Julie Ruel, Social Media Manager, Stanford Blood Center
Donating blood together with friends or family members can be a rewarding experience of supporting patients in need while also building a sense of community with each other. A few years ago, we introduced our Center drive program to accommodate a growing number of inquiries about small, organized group donations – a great option when there may not be enough people to make a mobile blood drive feasible.
The Donor Party, one of our inaugural Center drives, is cleverly named and full of personality. The mix of friends, current and previous co-workers, and dodgeball league teammates started out as a few UCLA donor buddies who, post-graduation, moved north and drafted new donors. Group leader, Savannah Whitney (pictured below, holding sign), has been steadily growing the number of members and we've watched the number of donations triple since its inception. "Everyone involved has been extremely enthusiastic about donating, which has been a huge incentive to continue coordinating the drives. If I don't have one scheduled every eight weeks, I definitely have more than a few friendly reminders from the group to get something set up!"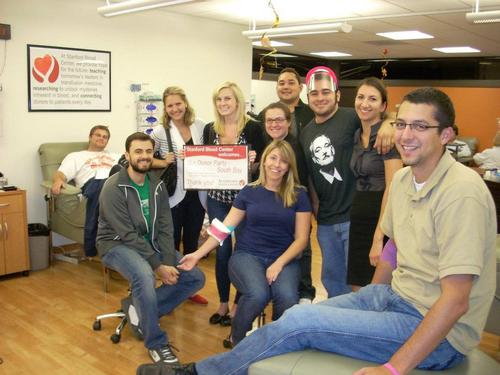 Whether you bring in your team of cyclists, members from your book club, or are hosting a group donation in honor of a patient, it's important for us to recognize the effort put into organizing Center drives. We have a special setup for groups of at least three including a welcome sign, a nominal gift to each donor, plus the option of touring the Blood Center and research labs.
If you're interested in setting up a Center drive, please contact Kevin O'Neill at kvoneill@stanford.edu.