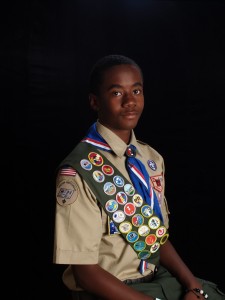 By Erin Digitale, Writer for Stanford School of Medicine's Communications & Public Affairs Department
Rahman Humphries was trying to pass a 100-yard swimming test on his way to becoming an Eagle Scout. He dreamed of achieving the highest award that the Boy Scouts offer, but he was struggling to make the distance.
"I could barely finish half," said the Santa Clara youth, who goes by the name Rahm, explaining how he became too fatigued to continue. Such a swim can be a challenge for many kids, but it was particularly daunting for Rahm: He suffers from sickle cell anemia, and too much physical exertion can have serious consequences.
Rahm, though, didn't want to give up, and he had a support team at Lucile Packard Children's Hospital to help him manage this painful disease. They worked together to develop safe ways to tackle physical challenges of the Scouting program. For instance, pediatric hematologist Michael Jeng, MD, approved a conditioning plan that helped Rahm earn his swimming merit badge.
"I had swimming lessons, practiced for a year and re-took it," Rahm said.
In February, the end result of all this work was readily apparent when Rahm, now 14 years old, received his Eagle Scout award. Sitting near his mom, Natasha, were two other proud guests: Jeng and Packard Children's nurse practitioner Judie Lea, both of whom have cared for the new Eagle Scout for many years. Lea has been Rahm's nurse practitioner since his infancy.
Rahm has the most severe form of sickle cell anemia, known as Hemoglobin SS, a genetic disease of the red blood cells. In this condition, physical stressors such as intense exercise can trigger painful "sickle cell crises" that carry a risk of serious complications, including strokes and pneumonia. After years of helping Rahm and Natasha manage these risks, Jeng and Lea knew that the Eagle Scout award represented an even bigger achievement for Rahm than for most other boys.
"Dr. Jeng has become almost a family member," Natasha said. "He knows Rahm has limits, but he also knows it's important to me that Rahm doesn't see sickle cell anemia as a handicap. Dr. Jeng tries to enable him as much as possible."
For Rahm, that means that in spite of living with a chronic illness, he has room to be ambitious. For much of his nine years in the Boy Scouts, he has wanted to earn the Eagle Scout rank. "I looked at all the older Scouts having adventures and thought it would be really cool," Rahm said.
Sickle cell anemia is caused by a gene mutation affecting the red blood cells, which carry oxygen around the body. In the disease, low oxygen levels can trigger the red blood cells to change from their usual round shape to a pointed, sickle-like shape. The pointed cells clog tiny blood vessels and hinder normal blood flow, which causes the sickle cell crises.
Rahm, Natasha and Jeng carefully considered any activity that might trigger a crisis, such as those involving intense physical exertion, possible dehydration, very cold weather or high altitudes. Rahm had one severe sickle cell crisis in third grade, when he became dehydrated at a school sports day and landed in the hospital for two weeks. As he grew older and took on more responsibility for his own health, he was increasingly aware that he didn't want to repeat that.
Jeng recalled the challenges of a Scout trip to Tahoe. "Rahm was very nervous about the altitude with going snowboarding and skiing," he said. "We debated how safe it was and discussed what kinds of things he should take along." The planning paid off: Rahm now says snowboarding is one of the most enjoyable things he has done with his Scout troop.
Fortunately, thanks in part to Rahm's comprehensive care from Packard Children's, his medical situation did not define the experience in Boy Scouts. Most of the time, instead of thinking about sickle cell anemia, Rahm was having fun with his Scouting buddies, figuring out how to earn the 21 merit badges the Eagle Scout award requires — in subjects ranging from world citizenship to environmental science to camping to medicine — or working on his Eagle project, in which he designed and built nine cat condos for a local branch of the Humane Society.
"I liked the community Scouting fostered between the boys," Natasha said. "Portola Valley Troop 64 has been our village."
The community at Packard Children's has been significant to Rahm and Natasha, too. "I think a strong partnership with your health practitioner is important," Natasha said. "I have certainly appreciated from Dr. Jeng that he allows me to partner with him. He always takes the time to explain things to us."
And Jeng is proud of what Rahm has been able to accomplish. "Patients who deal with this type of chronic disease really have to keep pushing themselves to take care of themselves," he said. "Rahm has gone far beyond that, and it's great to see."
This article adapted from material provided by the Stanford University School of Medicine.