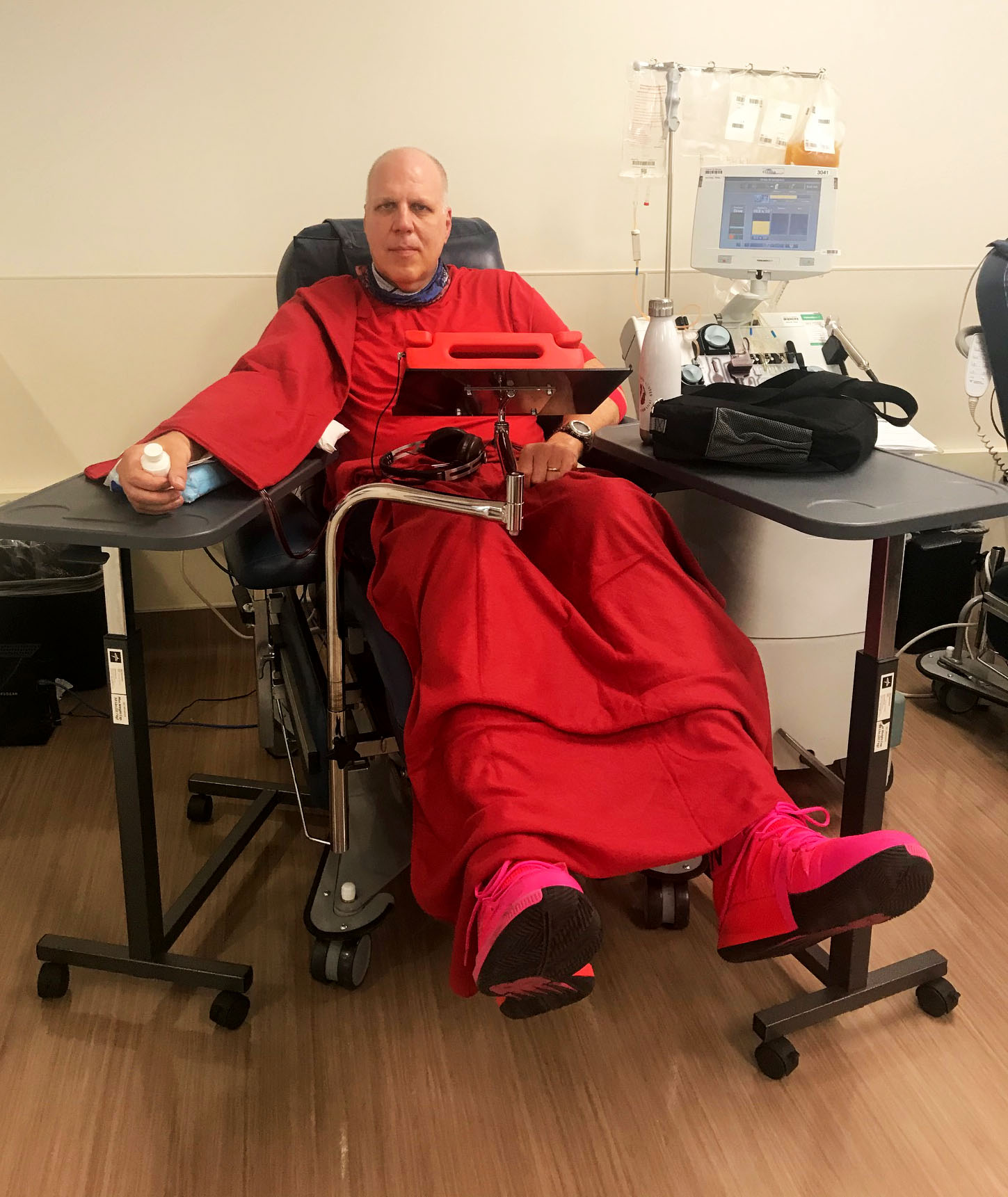 If you're a regular at our South Bay Center, you may know one of our dedicated platelet donors, Chuck Fannin. Standing at 6'10" and wearing bright pink high-top basketball shoes, Chuck never misses an opportunity to give his three bags of platelets to help patients in need. His personal connection to giving blood, from both the donor and patient perspective, has fostered in him a deep desire to carry on donating in memory of those who have inspired his own journey with donation.
Donor Inspiration
Chuck is not the first Fannin — or the last — to answer the call to donate blood. "I remember my dad having the 'I gave blood today' stickers all the time when I was growing up," Chuck said. He described his father, who was an engineer for an automobile corporation, as a highly analytical person. "He thought it was a good idea to give blood, it made sense to help others, and so he did it. And once he made something into a habit, he stuck with it."
His father remained a dedicated donor into his 80s, donating gallons during his lifetime. It wasn't until he faced medical complications that required him to be on certain medications that he became deferred and ultimately had to "retire" from donating. (He tried to put off taking the medications so as to be able to keep giving blood, but Chuck's mother, thankfully, "overruled" him!)
Following in his father's footsteps, Chuck made a commitment as a teenager to donate [1] as soon as he was eligible, which he did while still a student at University of Michigan. He was especially happy to be able to carry on that tradition once his father was no longer eligible.
Patient Inspiration
Years ago, after moving to the Bay Area and continuing his commitment to donate, Chuck gave his first donation with SBC. After finding out he was CMV-, meaning his blood could be transfused to those patients who were immunocompromised (e.g. cancer patients and preemie babies), he became even more enthused at the possibility of helping those most in need, as he had always been inspired to do by his father's example. After just a few donations, however, he received news that gave him a whole new sense of purpose.
"Shortly after I started donating at SBC, a friend of mine, Rick Hoopes, who was fighting pancreatic cancer, needed a transfusion to survive and continue to fight. I was talking to him after that and I realized he may have received my blood. It was a powerful and humbling feeling that my blood might have gone to my friend," Chuck said. Even if it had gone to another patient, however, Chuck was just happy to have helped someone like Rick who needed support during a trying time.
"Since I'm 6'10", I told Rick that we'll know he got my blood if he grew a few inches… We both laughed at that. Since then, I have donated as often as allowed."
Carrying the Torch
Though both Chuck's friend and father sadly did pass on, he affirms that having both of those men in his life and seeing their strong connection to donation, albeit from very different perspectives, has helped to solidify giving blood as a huge and important part of his life.
Chuck still carries on his father's legacy through donation — as do his niece and nephew, the "third generation of Fannin donors." This year, Chuck donated on his father's birthday as a special way to honor his memory and all that he did for others during his lifetime.
He also continues to tell Rick's story (despite getting choked up with each retelling) as a way to educate new donors. Chuck even hosts community drives, creating a space and opportunity for others to give blood — just like his dad — to provide hope to patients in need — just like Rick. It's safe to say that, in carrying on the legacy of those who have inspired him, he himself has become an integral source of inspiration for others on their donation journey as well.
[1] Growing up, Chuck had both the inspiration of his father, as well as one of his favorite science fiction writers, Robert Heinlein, whose life had been saved by blood transfusion and who had, consequently, gone on to become an advocate of donation. Chuck saw Heinlein speak when Chuck was 16 years old, ad at the time, you had to show that you had donated blood to get an autograph. "In Michigan at that time, a 16-year-old could not donate, so you had to sign a pledge that you would donate as soon as you were eligible. That was not a problem, because I already knew I would become a donor someday since my dad was a donor," Chuck recalled. And become a donor, he did!