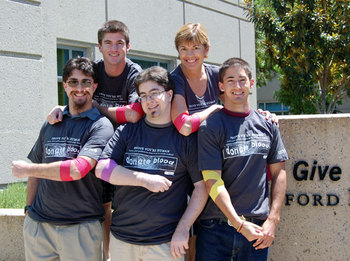 By John Williams, Marketing Manager, Stanford Blood Center
It's heartwarming when, in this time of technology-based connectivity, you see a family doing things together. In this case, Mary Sullivan and her sons Tom, Dan, Greg and Steve donated blood for the community as a family. Ironically, it was a technology-based promotion that drove this wonderful group into Stanford Blood Center that day.
During a recent campaign, we encouraged donors to check in to one of our three Center locations on Foursquare or other location-based social networks, allowing them to share their whereabouts with their online community of friends. The Sullivan clan caught word of the promotion and donated blood together to earn the limited edition t-shirt, emblazoned with a graphic that replicates the "Captcha" box seen on many websites.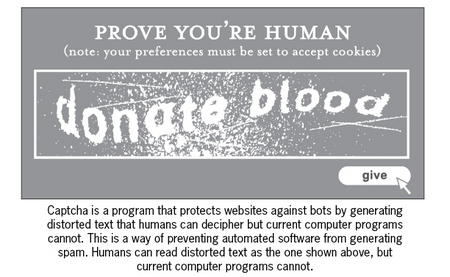 Creating promotions and programs that are relevant to our current and potential donors is paramount. For some folks, a phone call will always be the preferred manner of contact. For others, email works best. However, our recent expanded use of social media is proving to resonate with the high tech populace of Silicon Valley. To see an entire family respond to one of our new tech-savvy promotions tells us that we're on the right track. Thank you Mary, Tom, Dan, Greg and Steve for participating in this new approach to such a fundamental activity – giving blood!