by Julie Ruel, Social Media Manager, Stanford Blood Center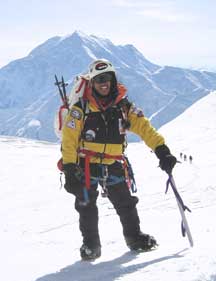 When Rob Chang, marketing manager at Sports Basement, called Stanford Blood Center four years ago regarding a potential partnership, we had no idea what he would bring to our organization and the relationship that would evolve.
We were familiar with Sports Basement and knew they were a store unlike most others. Sitting outside the front door is an old claw foot bathtub filled with yellow marigolds. Inside, all of their fixtures, displays, and racks are hand-made in their wood and metal shop. And a giant "esc" key hangs on the exit door. Clever and unique indeed.
But we didn't know that Rob's story was just as unique as the organization he'd been with since 2006. In a different way, though. For starters, he is part of the elite group of individuals to have reached the top of Mt. Everest. For most of us, I could stop there and we'd all agree that Rob is, in fact, unique on top of also being really cool. I wouldn't be doing him justice, however, without first telling his whole story. Rob was diagnosed with Graves' disease a number of years ago. The disease, an autoimmune disorder that leads to overactivity of the thyroid gland, ultimately makes climbing more difficult for him. In 2000, he visited Mt. Everest as part of an environmental cleanup. He didn't summit on that trip but did manage, along with his group, to remove 600+ bottles of oxygen that were littering the mountain. Not a small feat by any stretch of the imagination.
Shortly thereafter, his sister Marie underwent gall stone surgery where doctors found she was actually fighting terminal gall bladder cancer. Within months, his oldest of four sisters passed away. Saying she lost her battle with cancer isn't accurate, though. She didn't lose because she never feared her illness or impending death. Her only fear was of eventually being forgotten.
A few months later, a group of Rob's friends organized a memorial expedition climb, showing their effort in keeping Marie's memory alive. Feeling their dedication and commitment to the climb gave him the support he needed to lift his spirits and the experience changed his entire perspective on climbing. In the wise words of Rob, "Everyone wakes up with a great challenge, whether attempting to climb a mountain or battling things in their personal life. But in watching my sister fight cancer, she taught me through her example. If I can wake up and have 2% of her energy and courage she showed me battling cancer, I know I can climb any mountain". He reached the summit of Mt. Everest, the tallest peak on earth, in 2005.
Rob originally inquired about a partnership with us as a way to support organizations in the community, a large part of the mission of Sports Basement. He was offering coupons with a generous discount to give to each blood donor, encouraging a healthy, active lifestyle. We've since given away many, many thousands in addition to pairing up with them to bring outdoor sports-related events to the Blood Center.
The friendship we've built with Rob and the Sports Basement is invaluable. And it all started one day when Rob realized he needed new running shoes. While looking for a pair at Sports Basement, he learned of a job opening. Out of that visit, he found more than one perfect fit.