By John Williams, Marketing Manager, Stanford Blood Center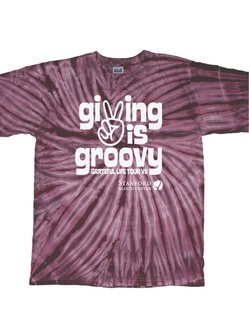 For several years Stanford Blood Center has given away tie dye t-shirts to blood donors as promotional items. Why?
We know that the motivation for donors to give blood is obviously to save lives and that this is a completely unselfish act. However, we never take for granted the time and effort of each donor that visits one of our Centers or mobile blood drives. That's why we sometimes give away modest gifts as a reward to our donors for their kind acts of generosity. We especially do this at times when our inventory is low, such as the summer months when vacations are in full swing.
Several years ago another blood center inspired us with a campaign to give away tie dye t-shirts. This Giving is Groovy Grateful Life Tour campaign, in the spirit of The Grateful Dead, caught on and is now a much anticipated annual promotion. As we swap out the design each year, many donors have built up a collection of these shirts, and it's a matter of pride to show off the result of so many life-saving donations.
Visit our Facebook page and in a line or two, tell us why YOU think giving is groovy! Please include a picture of yourself in one of our tie dye shirts. Each week during the run of the t-shirt promotion (now through 7/11/11), we'll pick one of you to be the "Face of SBC", using your picture as our profile image for the week. So post your pics on our wall, and we'll pick the grooviest of them all!
Click here for details on getting your 2011 tie dye.