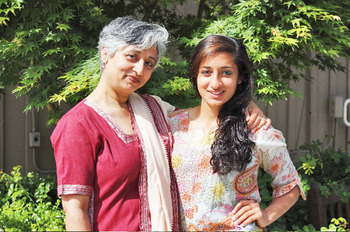 By Deanna Bolio, Public Relations Associate, Stanford Blood Center
Fifteen-year-old Maya Israni has been around blood drives since she was no taller than the Canteen table. Today, Maya is the youngest blood drive coordinator for a community blood drive. Maya was six when her mother, Sonoo, hosted the first blood drive at Ladera Recreation District, which she did in response to the September 11, 2001 tragedy.
"I called the Blood Center and asked if I could help in some way and they told me they were always looking for people to create blood drives," Sonoo said (pictured above with daughter Maya). "I did one in the spring to honor my mother's birth and one in the fall to honor my father's."
The twice-annual blood drives became a staple, with Maya and her older sister, Ellora, doing what they could to support the drive, including helping with publicity and calling neighbors.
"I was brought up with an ethos that said 'with privilege comes responsibility' and responsibility goes beyond writing checks," Sonoo said. "I've been a volunteer for most of my life and from the time they were little, I've had them volunteer with different things."
When Sonoo's eldest was a teen, she asked if she could take charge of the blood drive and her mother agreed. Maya took over the reins last year when her older sister went off to college. She credits both her mother and her sister for leaving her a great base.
"They both really helped me and built me into it," Maya said. "They built a really great foundation for me, like this great list of 70 or 80 people that I can always call up. That has been the most helpful."
"What stands out about Maya is how organized she is. She's even two or three weeks in front of me at times," said Elisa Manzanares, Stanford Blood Center Account Manager. "She's also very gracious."
Organization is key since Maya balances her coordinator duties with a host of other activities, including school athletics, music, a part-time job and volunteer work.
"I think she uses the same skills for the blood drive that she used to be the top salesperson in selling cookies as a Girl Scout," Sonoo said. "She's comfortable reaching out to people."
The Isranis attribute some of the success of their blood drive to the support of their tight-knit community.
"For the community, the blood drive has become a place where people can come and gather twice a year, " said Sonoo. "They come early and they stay late talking in the Canteen."
This October, Maya will bring the community together once again for the 20th Ladera Recreation District blood drive.
For information on becoming a blood drive coordinator, please visit our website.