By Julie Ruel, Social Media Manager, Stanford Blood Center
Question: How might we increase the number of registered bone marrow donors to help save more lives?
Katie Pfeiffer, Communications Director at the Haas Center for Public Service, recently invited me to get Stanford Blood Center involved in their campaign with OpenIDEO, a creative online community centered around social good, to gather answers to this question. By reaching out to our blood donors and friends, we open this up to the ideas and inspirations of a new group of individuals. Ultimately, the goal of this campaign is to register 100,000 new people on the national bone marrow registry, complementing the efforts of 100K Cheeks, a Stanford-based student advocate group.
100K Cheeks – that catchy name sounded familiar. I recently learned that it refers to the cheek swabs used to collect the cells needed for tissue-typing. The group was also taking registry sign-ups (52 total!) at our last Stanford Hospital blood drive.
So in response to Katie's invitation, there was no hesitation from our end. Their campaign fits seamlessly with what we do everyday. Whether someone is signing up to donate blood or to be a potential bone marrow donor, they're signing up to save a life.
Bone Marrow Transplant Stories
An individual living in China made a decision one day to register as a bone marrow donor. Mike Wu, living in the Bay Area, had no reason to know what was taking place that day and what it would eventually mean for him. He was diagnosed with leukemia in January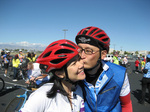 2003 and told he needed a bone marrow transplant. Because of the voluntary decision of the stranger across the world, Mike received the transplant and has a new lease on life. He and his wife are avid cyclists and ride to raise money for the Leukemia and Lymphoma Society.
Sameer Bhatia was on a business trip in Mumbai when he began feeling sick. He assumed the intense heat and humidity were responsible for his symptoms but visited his doctor to be sure. His white blood cell count was found to be abnormal and the diagnosis was leukemia. Given weeks to live, he, his friends and family set out to find a bone marrow match, his only chance of survival. They were told the chance of finding a match for someone of South Asian decent was 1 in 20,000. Through a powerful social media campaign, they registered over 24,000 people… and found a match.
Tragically, Sameer eventually succumbed to the disease. However, because of the number of new registrations collected through the work of his team, over 250 other matches were found.
Sadly, there are many individuals needing bone marrow transplants, desperately looking for a match, and left waiting with little hope. Together, we are asking for your help.
PLEASE:
Register as a bone marrow donor
Spread the word: