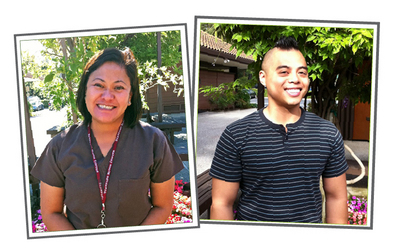 By Brooke Wilson, Communications Manager, Stanford Blood Center
You're minding your business, going about your day, even doing something good for your health by popping into the gym for a workout —when suddenly a seizure sets in and you're on the ground convulsing, foaming at the mouth, and unable to communicate. Not only has your day taken a dramatic turn—but your life may be in jeopardy. What happens next?
If you're near a Stanford Blood Center blood drive, you're in luck.
"We heard someone say that a man next door had fainted while working out," said Robert Manio, R.N. Then, he and Charge Nurse Cat Layson, R.N., decided to investigate. Even though the person wasn't a blood donor, they hoped they could help; Cat and Robert rushed to the nearby gym to assess the situation.
"The man was having a seizure when we arrived," remembered Cat. "And we weren't able to do mouth-to-mouth at that point." They located the tools they needed (mouthpiece, defibrillator) and asked someone to call 911.
Then, the seizure stopped. But so did everything else—including his breathing and his heart. That's when Cat and Robert used a defibrillator to deliver a controlled electric shock to the man's heart. Then, a few seconds of CPR brought back his breathing and pulse.
"I've used defibrillators before, when I worked in a nursing home facility," said Cat. "But that part was very stressful," she said in reference to the time when the man wasn't breathing. "I think I stopped breathing too, and once he finally took a breath, I did too."
Cat and Robert then watched and maintained his vitals until the paramedics arrived with an ambulance to take the still-unconscious patient to a nearby emergency facility. "I was glad she [Cat] was there," said Robert. "We work well together. But seeing this guy having a cardiac emergency really brought back memories for me; my father had a heart attack at the end of last year, and he passed away on January 1st."
With humility and nobility, both Cat and Robert consider that day just like any other day of work at Stanford Blood Center. They seem shy about being called a "hero." "I feel like this is expected of me," explained Robert. "It's part of my job."