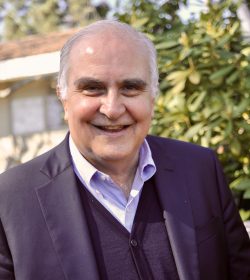 Marcelo Fernández-Viña, PhD, F (ACHI) is a Professor for the Department of Pathology at Stanford University Medical School and Director of the Histocompatibility & Immunogenetics Laboratory at the Stanford Blood Center.
He has been working in the fields of histocompatibility and immunogenetics since 1982. Dr. Fernández-Viña earned a degree in biochemistry from the School of Basic Sciences in Rosario, Argentina, and his PhD in internal medicine from the University of Buenos Aires Medical School in Argentina. Previously, he held a position as Professor in the Department of Laboratory Medicine at the University of Texas M.D. Anderson Cancer Center in Houston. He has over 240 peer-reviewed publications, many of them focusing on HLA variation in multiple world populations, identifying susceptibility and resistance factors for diseases, and the impact of HLA mismatches in allogeneic transplantation; and 59 book chapters.
Dr. Fernández-Viña has held the positions of President Elect, President and Past President of the American Society for Histocompatibility and Immunogenetics (ASHI); has served as a member of the Board of Directors United Network for Organ Sharing, Consultant for Donor Searches for NMDP; and on the HHS Advisory Council on Blood Stem Cell Transplantation (ACBSCT). He is Councilor and current President of the International HLA and Immunogenetics Workshop and is a member of the WHO Nomenclature Committee for Factors of the HLA System. He has vast expertise in histocompatibility and tissue matching as well as in genetic mapping of susceptibility to autoimmune disorders. He serves as HLA Expert Consultant for the NMDP for the HRSA contract and is a member of the Histocompatibility Advisory Group for NMDP. He is also Section Editor of Human Immunology and an Advisory Board Member of the International Journal of Immunogenetics.