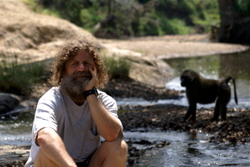 By Kevin O'Neill, Business Development Specialist, Stanford Blood Center
After waiting for a year because of his packed speaking engagement schedule, we recently had the privilege of hosting Dr. Robert Sapolsky, PhD at our Café Scientifique series for a standing room only audience. He remarkably holds positions in four Stanford University departments: Biology, Neurology, Neurological Sciences, & Neurosurgery. He has published four acclaimed books, has received numerous prestigious national science awards, and was featured in a National Geographic special on stress.
Dr. Sapolsky's talk, entitled "Stress, Coping, & Health: Lessons from Wild Baboons", was drawn from his field studies over 30 years living with wild baboons. He was introduced to the habitat by a departing researcher. Initially, the baboons would curiously circle him from a distance of 500 yards, gradually gaining trust & proximity. Ultimately he acquired intimate knowledge of the personality traits and dominance characteristics of individual baboons within their troops. This enabled him to finally dart the baboons in order to draw blood samples that he analyzed from a stress perspective. Dr. Sapolsky drew parallels between stress-causing events in the lives of baboons and those of humans, sharing that "loner" baboons' blood profile correlated closely with that of a depressed human. One was left with the impression that Dr. Sapolsky had barely scratched the surface of his vast knowledge of baboons, science, health, and its implications for healthier human lives.
For a short video on Dr. Sapolsky's study of baboons and stress, click here.
You may also visit our website to hear the podcast from his Cafe Scientifique talk. Under "Past Events", scroll to January 27.