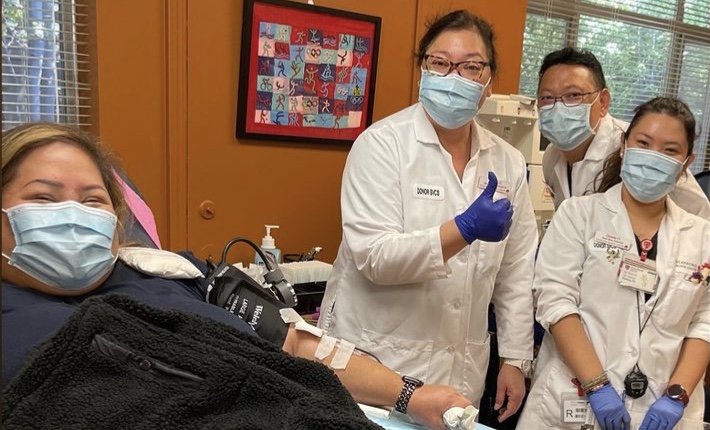 Growing up, Lily Shih said she never really gave blood donation any thoughts. "I'm Chinese and it just wasn't a big part of our culture," she said. It wasn't until adulthood when her mom was diagnosed with a rare neurological disease and needed transfusions of her own that Lily understood the importance of transfusion. From that time on, she was on a mission — albeit a long and difficult one — to donate blood.
"I'd always been afraid to donate blood because I knew I had veins that were very hard to find," she said. "However, I admired my mom's bravery and courage so much, it led me to rethink my fear of needles and the pain of finding my veins. About 11 years ago, I got up the courage and tried to donate." But, much to her dismay, after over an hour in the donation chair and attempts by five phlebotomists to find her veins, she went home unsuccessful. She was told that, not only are her veins small, but also they move around! The blood center she visited echoed the many phlebotomists she had encountered at hospitals before: She'd likely never be able to donate.
Though she'd put her attempts to donate on hold, in May of this year, Lily heard about Stanford Blood Center through a donor friend on Instagram. She'd never heard of SBC but thought it would be a great opportunity to try once more, and she scheduled her first appointment on the anniversary of her mother's passing.
"Even though I wasn't sure donation was possible for me, I did everything I could to prepare. I drank a ton of water, ate a steak for lunch. I even brought my own quilt, hand warmers and stress ball!" she said.
Though it took a few attempts, Lily was floored to find that SBC's nurse Davina was able to find her vein! "I was thrilled! And almost in tears!" she said. "Everyone there was cheering me on and worked with me to make it a successful donation. As Davina was securing the needle, one phlebotomist, Dana, talked to me to keep me distracted so I wouldn't get anxious. A kind woman next to me, who was a regular donor, was providing me encouragement, too." One of the team members even provided her with a special blood donation shirt after she remarked she'd always missed out on getting those special "I donated" shirts at blood drives in high school.
"It was such a special day, to be able to donate for my very first time at 51! Now that things are opening up, I'm looking for any way I can to help out — donating, volunteering and maybe even hosting a blood drive!" Lily said.
SBC is absolutely thrilled to welcome Lily to our team of blood donors and to help her finally see her vision through! Thank you, Lily, for your extreme patience, persistence and dedication to supporting patients!