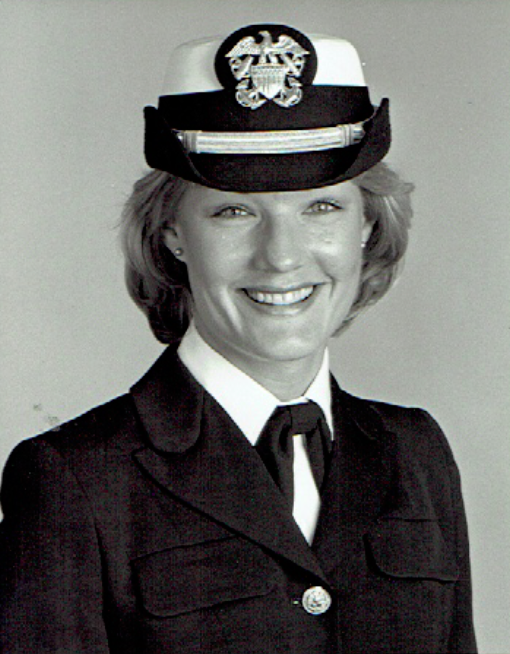 Happy Veterans Day and thank you to all of those who have bravely served our country over the years. In honor of the holiday, we interviewed just one of multiple veterans here at SBC who continue to pursue their passion for serving others.
Lynn Eisberg, Operations Support Supervisor, has been with SBC for over 16 years. Though she now works mostly on a logistical level to ensure successful process changes at the Blood Center, such as implementing a new donor history questionnaire or deferral periods, her early experiences with patient care trace back to her years as a nurse in the U.S. Navy.
Growing up, Lynn had been an "Army brat" and moved every two years due to her father's military service. As a young adult, Lynn became a nurse in San Antonio. She served at local hospitals there for four years and then, after a weekend visiting her two brothers in the Navy, she had such a great time that she decided to look into opportunities for nursing within the military.
Proudly following in the footsteps of her mother, who was an Army nurse during the Korean War period, Lynn joined the Navy in 1981. "At that time, they matched your rank for the number of years of experience you had, so I went in as a full lieutenant — and got to outrank my brothers instantly!" she said.
After three months of training — an experience that led to a number of lifelong friendships — Lynn was sent to Naval Regional Hospital, Oakland, where she served all of her active duty years.
"Initially, my role was to be out on the medical floor, which was extremely busy. We had a 40-bed ward that was always full, and it was just one nurse and two corpsman on the night shift."
One of the most important skills Lynn learned from this experience was the "Navy Way"of time management and resourcefulness. "Each morning, every patient had to have daily weights and labs, plus medicine and IVs. There was no way we could have taken care of each patient between 6:00 a.m. and 7:00 a.m., the end of our night shift, so I helped us organize our time really well," she said. "If a patient was up at 3:00 a.m., we would do their weight and labs. And as soon as someone left, no matter the time, we would change the sheets and clean up their area immediately to keep everything moving."
Her time in the Navy also taught her the discipline and perseverance that make her the master coordinator she is at SBC today. Regular shifts rotated between day, evening,and night in seven day intervals with few days off in between, and while typical shifts were eight hours, "they may need you for 24 hours straight, and in that case, you're there for 24 hours," she said.
Though the work was grueling, Lynn humbly protests that it was very minimal compared to many others who served around this time. "This was in the early 1980s, so we served a lot of  veterans from WWII and the Vietnam War," she said. "My service was nothing compared to theirs. And I had an appreciation for that early on. My parents retired and lived in a retired military community, and it was common for everyone who lived there to have their stories written up and displayed in the main facility. You'd read some of these things, and you'd talk to the residents and you'd just go, 'Oh my gosh, you survived that?'"
After three years of active duty and four years in reserves at NAS Moffett Field in Mountain View, Lynn is thankful for all the training she received, the opportunities she had and the wonderful people she met. "You make really great friends when you share a common bond like that," she said. "I'm still close with about half a dozen people from that time, and my late husband, when he passed away, was surrounded by his friends from his military service, too."
Lynn and her husband, who was a P3 pilot during the Vietnam War and completed his service, retiring after 30 years, had two children, the eldest of whom is currently a C-130 pilot in the California Air National Guard, 129th Rescue Wing at Moffett Federal Airfield. The whole family was centered around the idea that everyone has a role to play in supporting the country, be that by something as simple as voting or as involved as active enlistment. "For my part," Lynn said, "I'm just glad to have given the little I could."
SBC is so grateful to have such a strong role model of selfless service within our own community. Thank you, Lynn, and all other veterans for everything you do to support and protect us all!