by Michele Hyndman, Public Relations Manager, Stanford Blood Center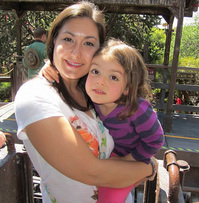 I am thrilled that Stanford Blood Center is a sponsor of the inaugural Promise Walk for Northern California on May 7 to raise awareness about preeclampsia and generate funds for research through the Preeclampsia Foundation. Thousands of women and babies die or get very sick each year from a dangerous condition called preeclampsia, a life-threatening disorder that occurs only during pregnancy and the postpartum period.
Each year, many of the women and infants who are impacted by preeclampsia require blood transfusions making Stanford Blood Center and the Preeclampsia Foundation natural partners. In fact, I also have a very personal motivation to participate in the Promise Walk this weekend.
In July 2006, I developed preeclampsia with my first pregnancy when I was about 35 weeks along with my daughter, Sydney. The onset was fairly rapid. I showed severe signs of edema, my kidneys showed signs of stress and my blood pressure started to sky rocket. The only cure for preeclampsia is to deliver the baby. At 37 weeks, my midwife and doctor determined that it was no longer safe for me to carry Sydney and that she was big enough to deliver early. It broke my heart that this disorder was usurping the natural course of pregnancy and childbirth, and I prayed that there would be minimal repercussions for Sydney's health. I was admitted to El Camino Hospital and immediately put on an IV of magnesium sulfate to reduce the chance of seizure and coma. It was a scary and unnerving experience during what should have been the most exiting and joyful moments of my life. Fortunately, Sydney and I both came through with flying colors. I'm grateful for our health and the incredible care we received.
I had a relatively mild case of preeclampsia and it was caught early. Countless other women and infants have not been so lucky. Recently, Lauren Larsen, author of "Zuzu's Petals: A True Story of Second Chances," spoke at Stanford Blood Center and told her story of preeclampsia which ravaged her body and required her to receive more than 200 units of blood. I've also heard the wrenching stories of families whose loved ones didn't survive.
Scientists still don't know much about what causes this disorder that affects approximately 8 percent of pregnancies. My mom developed preeclampsia when she was pregnant with me. My hope is that when Sydney decides to start a family of her own, research, funded by walks like this one, will have led to better understanding and preeclampsia prevention.
Globally, preeclampsia and other hypertensive disorders of pregnancy are a leading cause of maternal and infant illness and death. By conservative estimates, these disorders are responsible for 76,000 maternal and 500,000 infant deaths each year.
Stanford Blood Center's blood donors help support the treatment of these women and infants. Thank you from the bottom of my heart.