In the Merriam-Webster dictionary, altruism is defined as feelings and behavior that show a desire to help other people and a lack of selfishness. Every day, donors walk through the doors at Stanford Blood Center (SBC) that exhibit this quality. SBC tries to do its part to continue spreading good deeds by participating in activities to promote altruistic giving above and beyond blood collection. Here are just some of the ways that SBC is contributing to its local community and making the world a better place.
Give Good Campaign
In 2013, we partnered with The Humane Society of Silicon Valley to provide donations toward life saving vaccines and other medical needs for animals. For each of the 3,224 donors that visited during the campaign, SBC made a donation to this amazing cause.
In 2014, we will partner with Baykids Studios, whose mission is to empower children facing medical challenges through the art of filmmaking. From December 15-28, for every donor that comes in to donate, SBC will make a monetary donation to Baykids. Our goal, with the help of our donors, is to help fund 2-3 patient films. We have also been collecting some touching stories from blood donors, recipients, and staff that we will share with you via our website. Stay tuned to see what a powerful impact blood donation has on so many people.
Donors Giving Back Through the Online Store
In 2012, SBC introduced a new option in its online store offering donors the opportunity to donate the points they earn with each donation. This online store option helps support two non-profit organizations: the Safe Blood Africa Project and Lucile Packard Children's Hospital.
Over the last few years, the funds donated to LPCH have been given in the form of Amazon gift cards. Colette Case, director of child and family life services at LPCH, shared with us what the gift cards are used for and offered a personal thank you to donors:
"The gift cards are used to purchase special gifts and activities for children that are required to stay in isolation at LPCH for long periods of time. Being in isolation may cause boredom, which could lead to depression. Young patients sometimes start feeling that they are different from other kids and they withdraw, which causes them to regress. Having developmentally appropriate games and crafts reduces the effects of isolation. What is so great about the Amazon gift cards is that we can individualize for the child. Thank you for giving us this opportunity to brighten the worlds of these kids and for allowing us to provide tools that lets them thrive. Our budget doesn't always allow for us to provide games and toys for them to enjoy so the donors are providing a great service. They really are donating twice- once with their blood and once through their points that are used to purchase toys for the kids."
Community Events and Partnerships
Sharks Foundation
Each year, SBC teams up with the Sharks Foundation to collect hundreds of units of blood for patients in need. The Sharks Foundation is dedicated to improving the lives of youth and families in the community, with an emphasis in the areas of education, health and safety, and character development. SBC is so proud to be able to work with this wonderful organization to save lives.
Moonlight Run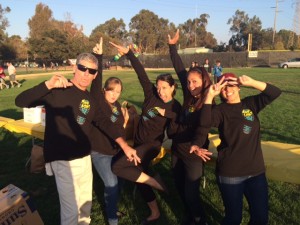 For the last several years, a team of SBC staff has volunteered at the Palo Alto Weekly Moonlight Run. The race draws approximately 2,500 people and just celebrated its 30th year. SBC staff worked through the evening to prepare and serve refreshments to runners and walkers that completed the race, such as orange slices and bagels. Proceeds from the event benefitted the Palo Alto Weekly Holiday Fund, which supports programs of local nonprofit organizations serving families and children in the Palo Alto area.
Donate Life walk/run
In September, some of our dedicated staff from the Histocompatibility, Immunogenetics, and Disease Profiling Laboratory (HLA lab), participated in the Donate Life 5k run/walk organized by the California Donor Transplant Network. The event raised over $110,000 to support community outreach events to save lives through organ and tissue donation.
SBC enjoys giving back to the community any way we can but the true heroes are our donors. We would like to thank all of our donors for all they give. Please remember the upcoming holidays often present a critical time for blood donation so we hope you will give the gift of blood. Give blood for life. Please make an appointment today and give blood for life.