By Julie Ruel, Social Media Manager, Stanford Blood Center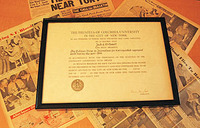 It was December 1944 and a young journalist for the Call-Bulletin in San Francisco had an idea; one that would earn him a Pulitzer Prize for reporting. Jack McDowell, like so many other young men living in a time of war, volunteered to go fight for his country. His poor eyesight kept him out but it was ultimately his vision for this series of articles that won him the prestigious prize.
McDowell decided to accompany over 100 "little pint bottles" of blood from the arms of donors in San Francisco to the arms of wounded soldiers some 6,000 miles away.
His journey began at the Red Cross Center in the city's Telegraph Hill district as he chatted with donors, asking them to share some things about themselves. He listened to and made note of their stories. Forty-eight hours later, after flying with the plywood cases of blood across the Pacific, he was standing at the foot of the bed of a Navy Seabee in Guam. He watched as the severely burned young man received blood from a stranger he remembered meeting. Chelsa O'Brien had just moved to San Francisco from Boston and the first thing she did was make an appointment to give blood because it made her "feel like she really belonged to the community". There were immediate signs of improvement as the Seabee lay there hearing stories about the original owner of the pint. McDowell continued on to more of the wounded, sharing glimpses of the personalities behind the pints of blood pumping life back into them.
McDowell's articles are fascinating in their own right. But now, 65 years later, I can't help but be intrigued by the information in his articles in other ways. I think about the advances we've made in blood banking since then. He often referred to the bottles he traveled with and I wonder – were they actually glass bottles? Not plastic bags? Yes, indeed. It was a few years later when they started using plastic collection bags, greatly reducing the risk of contamination and revolutionizing blood collection.
In addition, research over the past several decades has led to better compatibility testing, resulting in breakthroughs in transfusion medicine and countless lives saved.
We can certainly draw parallels between then and now as well. Whether it's 1944 and people are asked to give blood for war victims or it's 2011 and you're responding to a critical shortage message broadcast on Twitter, communities come together to help those in need.
McDowell's daughter, Judy, is a Stanford Blood Center donor and has graciously loaned us the Pulitzer Prize and original newspaper articles. They will be on exhibit at our Hillview Donor Center through Friday, June 3.