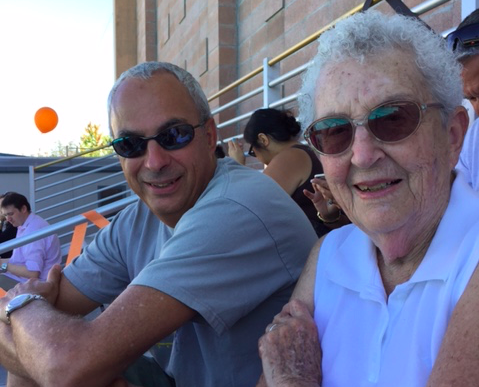 By Krista Thomas, Communications Strategist
Brad Hart is a fifth-generation medical professional and comes from a history of medical innovation. His great, great grandfather, Andrew Jackson Hart, was an OBGYN; his great grandfather, Arch Coombs Hart, was a practicing dentist, and one of the first  to lecture that tooth decay was caused by bacteria; his grandfather, Frank L. Hart, was a practicing dentist and the first to use plastic instead of rubber in dentures bases (as is the practice today); his father, Ward Hart, was an esteemed internist and volunteered as a clinical professor at Stanford University School of Medicine; and now, Brad has carried on his family legacy as a dentist in San Carlos.
Growing up around such an incredible legacy of patient impact, Brad always knew he wanted to devote his life to supporting patients in a professional capacity and has done just that over his 38-year career in dentistry. But when Brad's mother was diagnosed with cancer in 2019, he turned to a new and much more intimate way of providing support: blood donation.
In the spring of 2019, Brad received an alarming call that his mother, Frances, had fallen in her home while changing the sheets on her bed and broke her hip. Frances was 93 years old at the time and, though she was generally independent and in good health, her care team noticed around the time of her admittance to the hospital that, based on some preliminary testing, she had very low hemoglobin levels. Frances confirmed feeling more tired than usual as of late and the doctors ordered additional testing. Though Frances' hip would fully recover during her stay, she would leave the hospital with an entirely new diagnosis: myelodysplastic syndrome (MDS).
MDS is a rare disorder that is also classified as a form of blood cancer. With MDS, bone marrow does not produce enough fully mature or normal red blood cells, leading to low hemoglobin as well as other serious health issues. As part of her treatment, Frances has come to rely on blood donations to make up for the healthy cells she lacks.
"Every six weeks, my mom receives a blood transfusion, and it's truly night and day," Brad said. "You can tell she feels run down toward the end of her six weeks, but, within an hour of getting the next transfusion, she's full of energy!"
As critical as these transfusions have been to her treatment, Frances, being as selfless as she is, was feeling guilty using blood so regularly when she knew others in the community were in need also. Though her doctors and family assured her that people like her were the reason donors gave blood, Brad knew that the best way to put his mom at ease would be to step in and donate to the community blood supply on her behalf.
This year marked Brad's first blood donation at SBC. He was accompanied by donor and friend Dave Parrent, who stepped up to call SBC and schedule Brad's appointment at the same time as his own scheduled blood donation. Dave is also donating in honor of a loved one, and he and Brad continue to donate together to provide support for families just like theirs.
Earlier this year, Brad reached out to SBC's Communications team at the behest of Frances, who wanted to find a way to send a heartfelt message of thanks to blood donors and to let them know that their donations really do make a world of difference.
As for SBC, we wish Frances continued healing and want to echo her thanks to all of our community donors — including Brad — whose generosity saves lives on a daily basis.