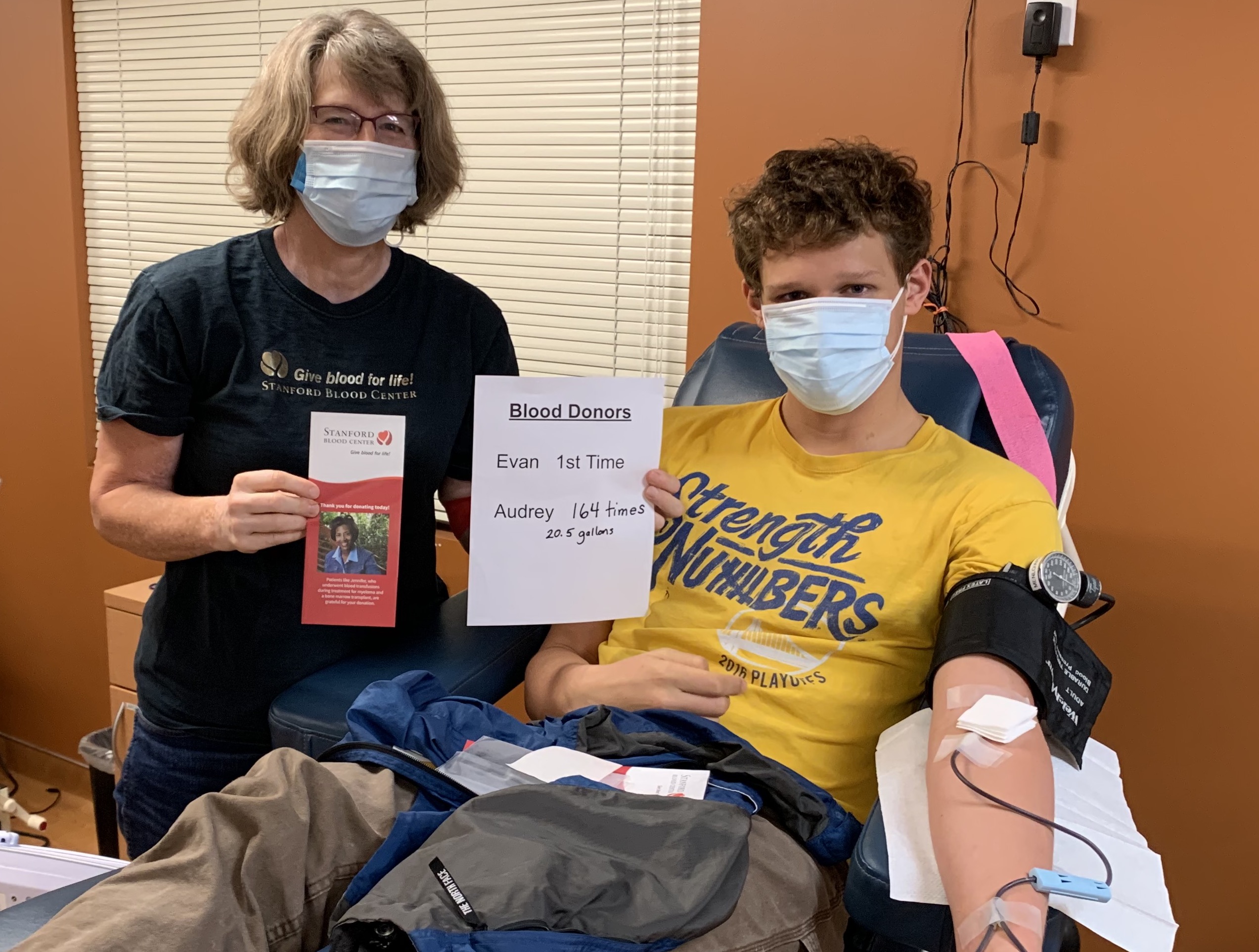 By Krista Thomas, Communications Strategist, with contributions from donors Cheryl Basinger, Brian Edwards and Audrey Gold
When asked if we want to help save lives, the answer will, of course, be a resounding yes. And even when we're asked to give blood, we may be game to sign up for an initial appointment, too. But, even though donating itself is easy for most people, forming a habit of donating blood, or a habit of any kind, really, can be very challenging.
This month, as part of our "New Normal" campaign, we're raffling off exciting prizes and asking our community to "make blood donation part of your new normal," encouraging folks to make a habit of giving back. To help you become a regular donor and "stick with" blood donation for years to come, we asked a few of our most dedicated donors, our milestone donors, to talk about what made them commit to donation long-term and what tips or advice they might have to help others become long-term donors, too!
A huge thank-you to the following incredible donors who lent their expertise for this article: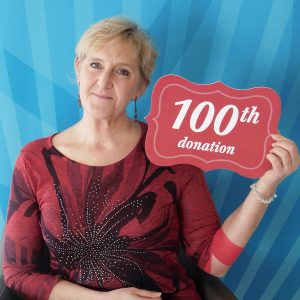 Cheryl Basinger, 126 donations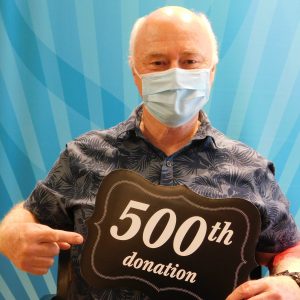 Brian Edwards, 516 donations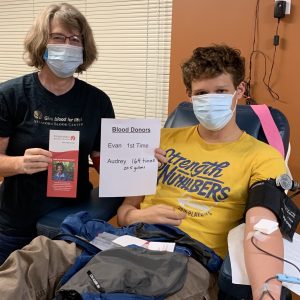 Audrey Gold (with son, Evan), 167 donations
When did you first give blood and why?
Cheryl: I have been a Stanford patient since I was approximately 10 years old. I think the first time I gave blood was to myself preparing for a surgery in 1990. My doctor needed to remove a hemangioma that was growing around my carotid artery, larynx and trachea, causing me to cough up blood at a rate I was no longer able to control.  The surgery was given the go ahead by my student medical insurance, I recovered, and life went on until the insurance decided (after the bills arrived) they were not paying for it. Despite devising payment plans and working multiple jobs, I eventually had to declare bankruptcy.  I vowed at that time to repay Stanford somehow. I started by donating blood and, in doing so, knew I was helping others, too.
Brian: I first donated in 1965 at age 17 in Michigan with my parents' permission. My mother was an RN and inspired me to donate to the community.
Audrey: My first time donating blood was as an undergrad at the Toyon Hall Eating Clubs at Stanford more than 30 years ago. I can't remember why — probably because my friends were doing it.
When did you first make a habit of giving blood? If it wasn't your first time (e.g., you didn't start donating regularly until later in life), what pushed you to make that commitment?
Cheryl: I had been donating blood for years when one of my friends' sons, Andrew, was diagnosed with leukemia. While I was at SBC for one of my donations, I mentioned Andrew. They asked if I'd be interested in donating platelets after I learned how platelets work and how they help those in need like Andrew. So, in 2008 I went from donating blood every eight weeks to donating platelets about every week. Sadly, Andrew did not make it, but I knew there were many, many more Andrews out there who needed my platelets.
Brian: I started donating consistently in the early 1980s. Stanford Blood Center held mobiles at our workplace. My colleagues encouraged participation. In 1982, a colleague's son contracted leukemia and I was motivated to begin apheresis donations.
Audrey: It has always been easy to donate either at the mobile blood drives or at the blood donation centers with flexible hours and locations.
Why are you so passionate about donation?
Cheryl: In 2010, I saw firsthand how patients react after receiving the life-changing gift of platelets when my dad was at Stanford with leukemia. After his transfusion, his cheeks brightened, his mind cleared and, for a brief time, he was back. My dad did not live through the leukemia, but I continue to give. That is what pushes me to continue, after seeing the change platelets made, and knowing a patient's family will see the color return to the cheeks of their mom, dad, sister, brother, etc.; perhaps their mind will clear, they will become stronger and hopefully will be going home from the hospital soon.
Brian: There is an obvious need for blood products and blood cannot be created artificially. I have good health and have had many wonderful opportunities in life. Donating blood is something I can do to support, as well as give back to, the community.
Audrey: Every time I donate, I reflect on how lucky I am to be healthy and able to give. I remember friends and family like my twin brother who passed away. I'm proud that my son joined me as a donor when he turned 16. (About 38% of the U.S. population is eligible to donate, but less than 10 percent% does.)
What has helped you stay consistent with donation? (Both what inspires you, and logistical assistants, like calendar reminders, going with a friend, etc.)
Brain: My body easily adjusts to the donation (whole blood and apheresis) both during the draw and afterward. As a research geologist (USGS), I had a level of flexibility over my schedule. The government allowed a limited amount of administrative leave for blood donations, and donating became the "thing to do" at work. I grew to feel part of the "blood donation family" and now look forward to seeing the nurses, technicians, volunteers — all members of my extended family. I welcome and find inspiration in their comments and expressions of thanks and of the importance of the donation. That personal touch (as opposed to a more clinical feeling) helps me stay consistent in my donations. Additionally, on occasion, my individual blood products have been needed for a specific patient; those donations were particularly special. With the help of the Telerecruitment team, I now schedule my donations about four months in advance, thereby having targets and the perfect day/time for donation.
Audrey: I get friendly email reminders and phone calls from team members when I'm eligible. I try to give four to five times a year. Once in a while, I meet an unexpected person while donating. A couple years ago I saw Zenon, a friend I hadn't seen since college. He probably donated at the same time I did that first time at Stanford. I got to say hello to Susan P., who I have exchanged emails with for 10 years on tax preparation for non-profits, but had never met. I enjoy going to the special milestone event for donors with over 100 donations with my friend Dan S., too, who is also a long-time donor.
What advice do you have for someone who has donated before but may need some help "sticking with it" and making a lifelong habit of donation?
Cheryl: Look at the big picture, know that you make a life-changing difference with every pint. Be grateful for your health, your strength, and pay it forward, not because one day you might be the patient, but because today you can bring joy to someone you will never meet by saving their life and sending them home to their family.
Brian: Having donated before, we all know that the sensation of the "stick" is transitory. My feeling of satisfaction following the donation is powerful, both for giving back to the community and a physical sense of well-being. In the '80s, I started alternating whole blood and apheresis donations — four to six times a year. That number gradually increased over the years and now I feel curiously incomplete when I miss my scheduled donations. So, stick to it. For me, donation has become part of who I am.
Audrey: We all have our talents and gifts. Giving blood is one of my special talents and it is awesome to think that something I do, that only takes an hour or two every few months, may help save lives. The whole blood collected is used in many incredible and specialized ways. And don't be afraid of needles. The team members are very professional and excellent and make it as painless as possible.
SBC would like to offer a huge thank-you to these incredible donors who give back not only by donating so regularly, but also by sharing their stories to encourage others to donate as well! You can learn more about Brian's story and Audrey's stories, too, via our previous blogs: