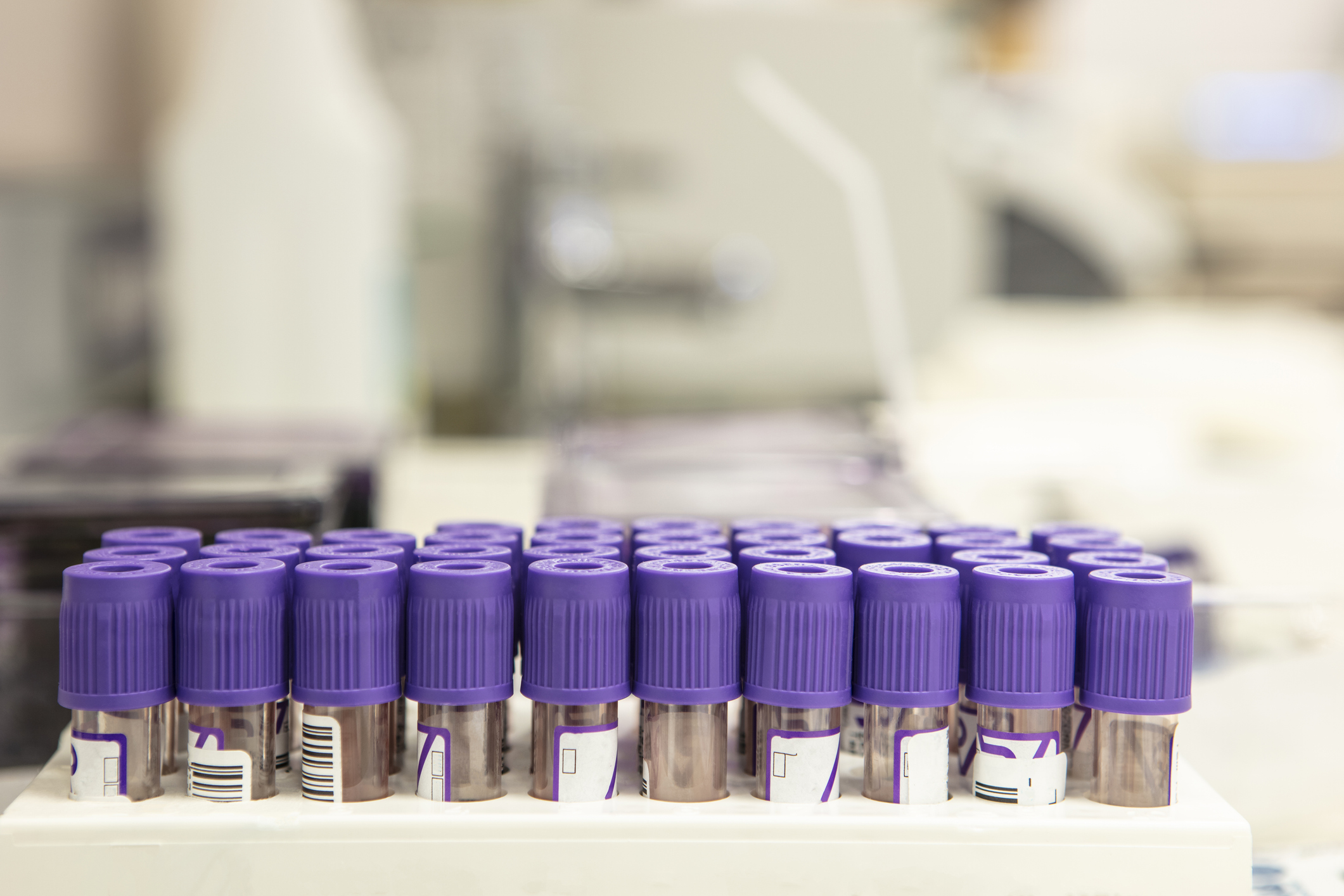 By Marino Bozic, Research and Clinical Services Manager
When you come in to make a whole blood or apheresis donation at SBC, you may notice the phlebotomists collecting tubes from your donation. One of the tubes you will see drawn is a purple (or lavender) top K2 EDTA tube. What is a purple top K2 EDTA tube? It's a tube coated with spray-dried K2EDTA on its inner wall. EDTA acts as an anticoagulant, binding the calcium ions and interrupting the clotting of the blood sample. EDTA is used for most hematology procedures, assessing complete blood count, preparing EDTA plasma, whole blood collection and bone marrow specimens.
SBC has its own infectious disease testing lab in-house. For every donation made, this lab requires a standard cluster of tubes for testing. That requirement is four purple top tubes and two red top tubes. These tubes are sent along with the blood donations to our testing lab from all centers and mobile blood drives. The purple top tube provides blood for infectious disease tests and ascertaining important data such as ABO/Rh (blood type), as well as whether the blood is positive or negative for cytomegalovirus (CMV), HIV, hepatitis, and West Nile virus, to name a few.
The other reason these tubes are so important is that they serve as valuable specimens is our research community, for both Stanford labs and outside researchers, who require them on a daily basis. They are used for research on a number of hematology tests, including red cell grouping, antibody screening, Rh typing and assessing the state or presence of HIV RNA, complete blood count (CBC), red cell folate, blood film, reticulocytes and many others. The researchers come to SBC for healthy donor samples and controls for experiments that oftentimes have the purpose of improving patient care. In 2019 and 2020, the Blood Center provided a total of 22,252 tubes to researchers! Of those 22,252 tubes, nearly half of those were the purple top K2 EDTA tubes.
These additional purple top tubes are drawn along with the standard tube cluster only when required there is a research request, which is processed by our Research and Clinical Services team to ensure all samples meet the researchers' parameters, which can include specifications about donor age, gender, CMV status, stated ethnicity or other criteria. (Note that, while we look at this donor information to determine whom to collect from, the donor's name and identifying information are not provided to the researchers.)
Researchers have two avenues for these tubes. They can request them the day of draw, which is considered a "same day" request, or they can request tubes that are drawn that day and are ready for pick-up the following morning, which is considered a "next day" request. While we try to provide tubes on the researchers' timelines, when the researcher has special requests, such as tubes from donors only of a certain age and gender, the availability will depend on how soon someone who meets that criteria is planning to come in and give blood, since we do not typically make appointments just to draw research tubes.
So, the next time you see that purple top tube being drawn, you can take pride knowing that it is embarking on a unique journey with the potential to benefit some really valuable research studies. By giving blood and supporting research, you're supporting the patients of today and tomorrow!
---
Read more of winter 2021 PULSE at stanfordbloodcenter.org/pulse.