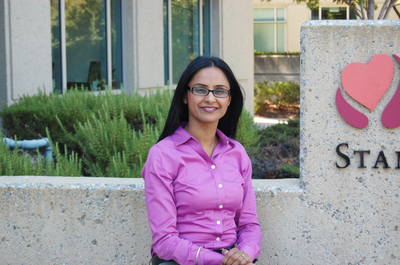 By Harpreet Sandhu, SBC Administrator
Last year brought some significant changes for Stanford Blood Center that we can reflect back on with a sense of great accomplishment. Our hard work and collaborative efforts came along with many successes and achievements. We welcomed several new team members including three managers, two directors, one senior operations director, and one assistant medical director. In addition, we opened up a brand new donation center in Menlo Park, taking with us fond memories of our Campus center as we closed its doors.
As many of you know, Vince Yalon, SBC's administrator for 24 years, retired last year. Vince built a legacy that made a substantial impact on the organization over the years. I am grateful that I had the privilege of working closely with him and that I have now been given the opportunity to take on the joys and challenges of my role as the new Administrator.
During the hiring process of our seven leadership positions, we were highly selective with each candidate, all of whom come from very different backgrounds and bring years of experience with them. I have 100% confidence that their skills will play a powerful role in the ongoing success of our organization.
As I mentioned above, we said farewell to our campus presence in December after 32 years as a result of the expansion and renovation of Stanford's Medical Center. With our facilities team working diligently on the project for months ahead of time, we made a smooth transition to our brand new center in Menlo Park. We received a very warm welcome from the community and continue to meet many friendly new neighbors. Thank you to all of our existing donors who have switched over and settled into the new center. We look forward to seeing many new faces there as well!
Looking ahead into 2013, I am excited about more changes and growth opportunities as we continue to serve the patients in our community. We succeed at fulfilling our mission because of the generosity of blood donors. My sincere gratitude to you all for your continued support and dedication!