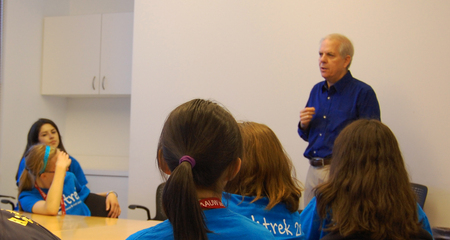 By Dayna Myers, Marketing Communications Manager, Stanford Blood Center
Stanford Blood Center founder and Medical Director Ed Engleman, MD, took a break from the lab to share his inspiring story with a group of students from the Tech Trek science and math camp on July 16.
A professor of pathology and a cellular immunologist (someone who studies the cells of the lymphoid organs, which are the main agents of immune reactions), Engleman described the thrust of his research and the unique role of Stanford Blood Center. More than a blood bank, Stanford Blood Center hosts a sophisticated research lab on the frontlines of fighting the most serious diseases affecting us today, such as HIV and cancer—all made possible because of the selflessness of blood donors.
Engleman highlighted the exciting research underway in the lab the students toured, telling them, "Research is a treasure hunt; it is like solving a mystery. Each problem we solve in the lab has the potential to cure a disease."
The talented and inquisitive students, who will enter the eighth grade in the fall, were treated to Engleman's description of his efforts to use white blood cells to fight cancer, and his work to improve our understanding of HIV/AIDS. Through Engleman's research on HIV, Stanford Blood Center became the first blood center to screen for AIDS-contaminated blood. The students were eager to learn more about this effort, and Engleman delved into cellular immunology with them, explaining how the HIV virus wipes out immune systems by attacking the smart CD4 cells, which serve as advisors to T-cells—essentially disabling the brain of the immune system.
Engleman's efforts to encourage the Tech Trek students embody one of the core tenets of Stanford Blood Center's mission: to provide hope for the future by teaching tomorrow's leaders in transfusion medicine. Engleman commented, "China now surpasses the US in patents and biomedical research. Reaching students when they are young, and sharing the fascinating world of research involving science and blood, is of the utmost importance if we are to inspire the next generation of medical researchers in this country." He added that the Tech Trek students showed impressive curiosity and grasp of scientific principles for students who are not even old enough to donate blood yet.
Tech Trek, sponsored by the American Association of University Women, is a science and math camp designed to develop interest, excitement, and self-confidence in young women. It features hands-on activities in math, science, and related fields.
Do you know a group of students who might benefit from a tour of our laboratory and donation center? We love to share our work with our community! Please contact Kevin O'Neill at 650-725-2540 or kvoneill@stanford.edu for more information.