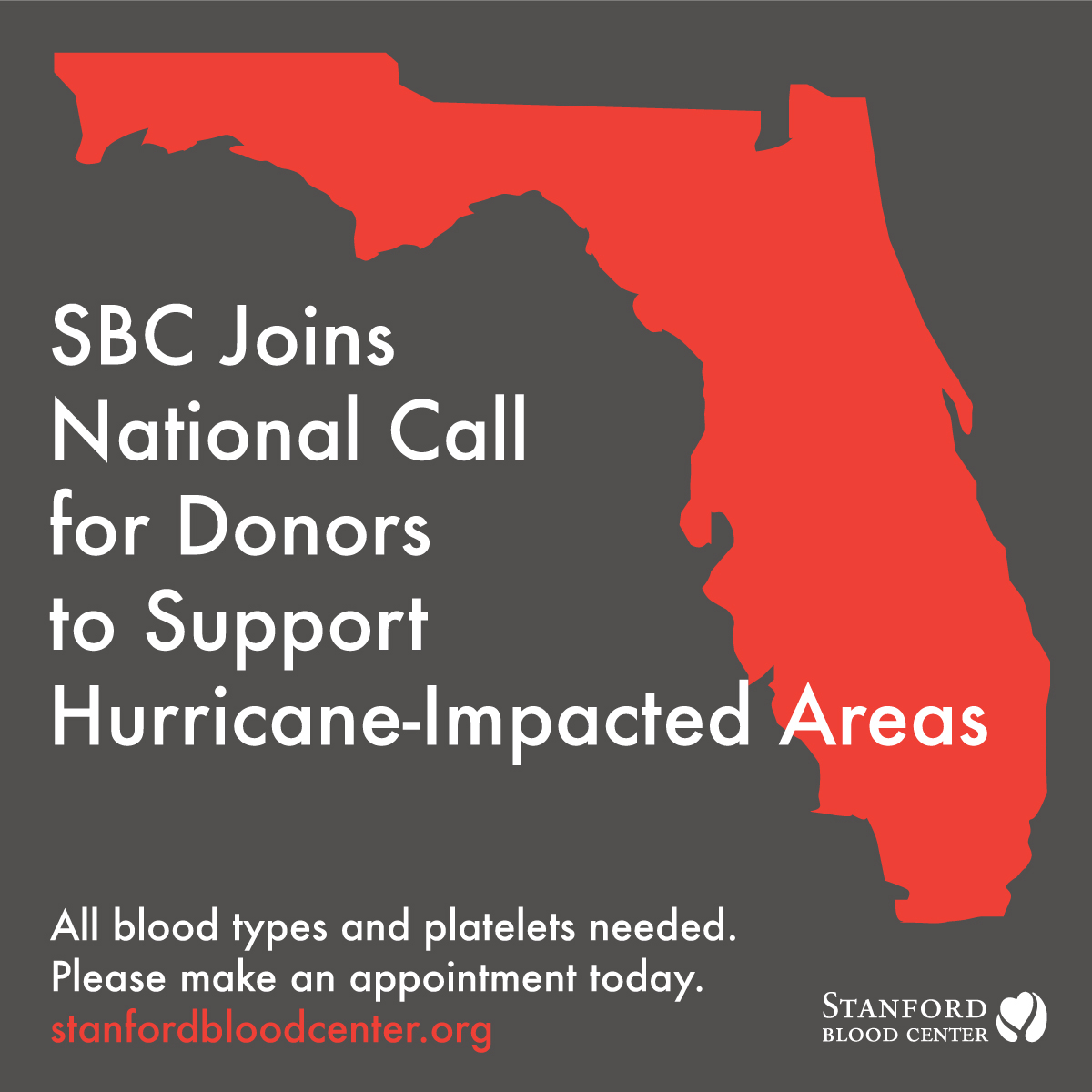 America's Blood Centers and AABB have issued a statement urging blood and platelet donors to come in to give blood as soon as possible in support of areas disrupted by Hurricane Ian. As a member of the Blood Emergency Readiness Corps, Stanford Blood Center will join with other blood centers across the country to provide blood products as requested to impacted communities, which may be unable to collect adequate blood supplies for days or weeks to come.
Per America's Blood Centers, "These donations are essential to maintaining a stable and adequate supply of blood and platelets in the coming days, which can help save lives and ensure patient needs continue to be met. The need for platelets is particularly urgent, given that they have a limited shelf life of five days and that the expected breadth and duration of the storm will likely impact large sections of the Southeast.
On average, blood collection organizations nationwide had only 1-2 days' worth supply of blood supply heading into the storm. Anticipated disruptions in blood collections – as well as transportation challenges – in Florida and the Southeast throughout the next several days are likely to exacerbate already low inventories, particularly in the affected areas." (Read the full statement)
Please consider making your earliest available appointment online at sbcdonor.org, via the SBC app, or by calling 888-723-7831.
MORE ABOUT THE BLOOD EMERGENCY READINESS CORPS
March 10, 2022
STANFORD, Calif. — Stanford Blood Center (SBC) is proud to announce that it has joined a first-in-the-nation partnership of community blood centers to help prepare for emergencies that may lead to a high demand for blood transfusions. The Blood Emergency Readiness Corps (BERC) will also enable blood donors in the Bay Area to better support mass casualty events that arise across the United States.
Launched in September 2021, BERC is a cooperative of currently 30 blood centers in more than 35 states that have committed to collecting extra blood units on a rotating, "on call" schedule. The extra blood products will be held in reserve for any critical-need scenario, like a mass shooting, natural disaster, or any other large crisis.
"Blood centers across the nation have faced widespread shortages during the COVID-19 pandemic, even more so in recent months," said Dan Gross, Chief Operating Officer at Stanford Blood Center. "We have worked diligently to avoid blood shortages in our region, but we know the demand for blood can spike at any minute. We're thrilled to join forces with BERC because we know the only way to prepare for mass trauma situations is to ensure enough blood is set aside and ready immediately in case a disaster strikes here at home or somewhere else across the country."
As part of the BERC program, SBC will work on an on-call schedule every three weeks to assist with any blood donations needs across the country. When an emergency hits, blood is released to the local blood center in need immediately. All participating blood centers will know exactly how much emergency blood is available and where it will come from. If the blood units aren't used for an emergency, they are returned to the blood center that collected them to be used for general needs.
"We're so fortunate and excited to have Stanford Blood Center as a partner in our emergency reserve program," said Nelson Hellwig, CEO of the Alliance for Community Transfusion Services (ACTS), and administrator of the BERC program. "SBC's tradition of community service through providing lifesaving blood products and other services will now help strengthen our national safety net in these critical times of need."
The Blood Emergency Readiness Corps (BERC) was founded in 2021 to help blood providers meet immediate transfusion needs when faced with a large-scale emergency. Through BERC, participating blood centers from across the United States have joined forces to prepare for mass transfusion disasters, ensuring their ability to meet emerging needs without delay or uncertainty.
To see a list of participating blood centers and to learn about recent BERC activations, visit www.bloodemergencyreadinesscorps.org.