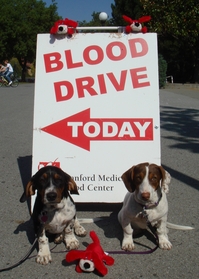 By Julie Ruel, Social Media Manager, Stanford Blood Center
In speaking with Dr. Sean Owens about the transfusion department he heads at UC Davis, I found they have a similar blood donation operation to Stanford Blood Center. They go to great measures to ensure a safe blood supply, rely on volunteer community blood donors, have certain weight and age requirements, and many of their donors return on a regular basis. But Dr. Owens is a Veterinary Clinical Pathologist at the UC Davis Veterinary Medical Teaching Hospital and his blood donors are dogs.
When the program began, the furry donors came from private rescue organizations. They lived at the facility and had part time jobs as lifesavers for sick and injured dogs. Their full time job was to work with the staff and learn how to be suitable family pets so they could eventually be adopted. They worked hard at this and succeeded at finding loving homes.
Because the hospital needed hundreds of blood donors and didn't have the resources for enough trainers available for the dogs, Dr. Owens and his staff turned to the community. "It can be difficult for people to drive 30 minutes, stay for 45, then drive 30 minutes to get back home again. But they do it because of the benefit." The owners are given heartworm pills, flea and tick medication and overall preventative maintenance for their pet (which dog owners will agree is a nice financial benefit!). The program also provides a rare opportunity for people to become involved in a unique way with veterinary medicine; something most wouldn't otherwise have a chance to experience.
For many, the part of giving back to the community is especially rewarding. Each summer, the veterinarians and dog owners get together for a picnic in support of the special donors who are proudly in attendance as well. Often times, the doctors will recognize the name of a dog, remember the scenario in which its blood was used and share the story with the owner. Having that meaningful connection results in a high rate of regular, repeat donors. We're quite certain the dogs insist on coming back, too.
The hospital is always on the prowl for new donors. Ultimately they plan on purchasing a mobile unit to expand their geographical reach and increase their donor base. They've raised about half of the $100K it would cost to purchase the vehicle. For now, they'll continue to offer tummy rubs to keep their local donors happy and coming back.
If you're in the Davis area and interested in getting your four-legged buddy involved in the program, please visit their website. There are a few things to know first. Potential doggie donors must:
• Weigh at least 50 pounds (60-80 pounds is preferred)
• Be between one and eight years of age
• Never have been pregnant
And yes, Max, you get to take home a bag of yummy treats each time for being such a good dog.