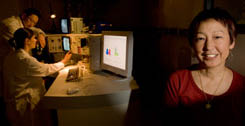 Judith A. Shizuru, MD, PhD, Associate Professor of Medicine, Stanford University School of Medicine – Blood and Marrow Transplantation, will discuss the topic of stem cells at our upcoming Café Scientifique event on Thursday, January 31.
Dr. Shizuru will explain definitions of both tissue stem cells and pluripotent stem cells. She will review the work leading to the recent award of a Nobel Prize to a stem cell biologist, and conclude with an overview on near-term, promising therapies from the field of stem cell biology.
* * * * * * * * * * * * * * * * * * * * *
Our series of Café Scientifique lectures are free and open to the public. They take place on the last Thursday of the month from 7 p.m. – 8:30 p.m. at our Hillview location unless otherwise specified. For more information, or to add your e-mail address to our mailing list, please contact Kevin O'Neill at kvoneill@stanford.edu.