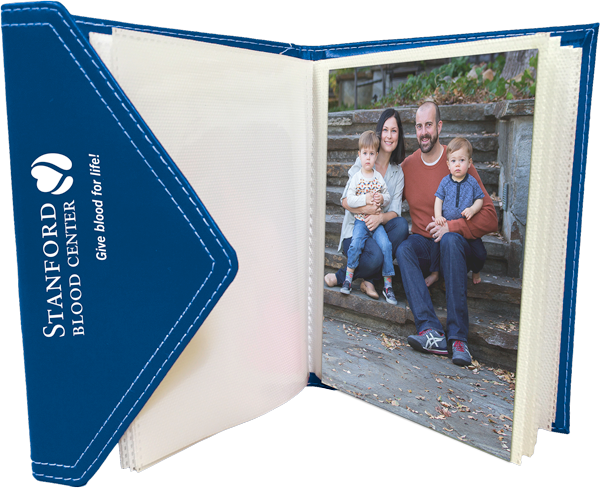 By Dayna Kerecman Myers
With holiday hustle-and-bustle ahead, we know you have a busy schedule. We hope you'll keep donating blood on your to-do list, though, because patients in our community hospitals still need life-saving blood products.
Topping our to-do list is thanking those of you who take the time to donate over the upcoming holiday. To show our appreciation, we have a little thank-you gift for donors who visit our centers and mobile drives between Tuesday, November 23, and Saturday, December 5: a leatherette photo album with photo-frame cover.
Inside each frame, you'll find a picture of a patient who has a chance at a brighter holiday because of donors like you. It's just a little reminder to all of us of the true spirit of Thanksgiving, and that the time you take out of your busy holiday season makes a difference for someone else, someone like Kristen Terlizzi.
Kristen suffered from a life-threatening disorder, placenta accrete, while pregnant with her second child and received 26 units of blood products. Now, she and her baby are doing very well, and she is forever grateful to her blood donors. " I am so grateful for all of the strangers who donated the blood that became critical to my case. I consider those donors just as important to my outcome as the many doctors and nurses in the operating room that day. Without that blood, my story would have a much different ending," she said.
Details for Donors:
Monday, November 23 through Saturday, December 5, blood donors will receive one leatherette photo album featuring a patient story
All Center and Mobile locations are participating in the promotion
Please note we're closed on Thursday, 11/26
Please make an appointment today