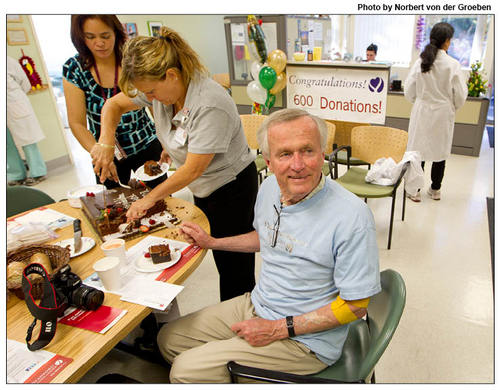 By Dayna Myers, Marketing Communications Manager, Stanford Blood Center
After more than two decades' worth of visits, blood donor David "Mitch" Mitchell hit a unique milestone on August 20 when he became the first person to make 600 donations at Stanford Blood Center.
Mitchell, 75, regularly donates through a specialized two-hour process that allows the center to collect specific blood components, such as platelets. This donation type allows him to donate as many as 24 times a year.
Mitchell first began donating blood at age 17 when he was in the Air Force, and it quickly became a habit. "It only takes a couple of hours, and once you build it into your life, it just happens," said the Mountain View resident. As a retired pilot, he travels often but makes sure to stay clear of malaria-risk areas, which would temporarily defer him from giving blood.
He recalled attending a survivors' dinner about 10 years ago where one blood recipient got up and thanked the blood donors in attendance by saying, "I'm here, you're here and that's good." That's his bottom line, Mitchell said. Donating is a small inconvenience, but it means the world to someone in need.
"Someone with a loved one who needs blood would offer every vein in their body," he said. "Well, there are a lot of people out there who need blood and don't have anyone to help, so I do what I can."
Cancer and leukemia patients often depend upon platelet transfusions. For example, a leukemia patient might have a dangerously low platelet count that could be caused by the disease itself or by its treatment, which can damage bone marrow and result in hemorrhage. Platelet transfusions can help keep these patients alive while allowing enough time for their therapy to work.
Although Mitchell started as a whole-blood donor, Stanford quickly identified him as an ideal platelet donor. He has been donating regularly at the blood center ever since. "The nurses and medical assistants here are just a delight," he said.
With donors Eric Buhr, Linda Johnson and Dick Tagg (see below), Mitchell is among an elite group who have given blood more than 500 times to the Stanford Blood Center.
* * * * * * * * * * * * * * * * * * * * * * * * * * * * * * * * * * * * * *