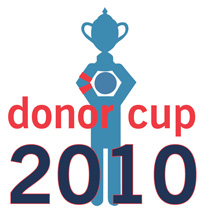 By Julie Ruel, Social Media Manager, Stanford Blood Center
Arriving to work on a typical day, I boot up my iMac, check my Google Reader and see something about Apple passing Microsoft as the most valuable tech company. Then I turn to Facebook for friend news and Twitter to see what's happening. I imagine my routine isn't all that different from most others'. But what is unique is getting to see many of these companies compete in a very different way.
In 2010, we introduced the Donor Cup; a friendly blood drive competition among some of the tech companies responsible for the very technology I rely upon throughout my day. Inspired by the World Cup soccer games, companies were invited to participate by scheduling at least four blood drives, one per quarter, during the year. Under the rules of play, they were ranked on their performance in a variety of categories, including percent of employee participation, percent of new donors, and highest total units collected.
We'll be announcing the top overall winning company at an upcoming awards ceremony. We'll also have the opportunity to recognize the hard work and dedication of the individual blood drive coordinators at these companies, many of whom go above and beyond their regular job duties to facilitate blood drive hosting.
In addition to taking part in the Donor Cup, three of our participants recently made an important announcement. Apple, eBay, and HP, part of a Corporate Partners Program, will be contributing $150 million toward the development of the New Stanford Hospital. Also involved in the Program are leading tech companies Intel, Intuit, and Oracle, all of which hold regular blood drives with us throughout the year. The three Donor Cup participants collectively brought in over 800 units of blood, many of which are shipped to the Hospital that will one day be the "global model for patient-centered, technologically advanced health care".
But let's not forget who the real winners are. Thousands of local patients have been given a second chance at life because of the important efforts of these organizations.