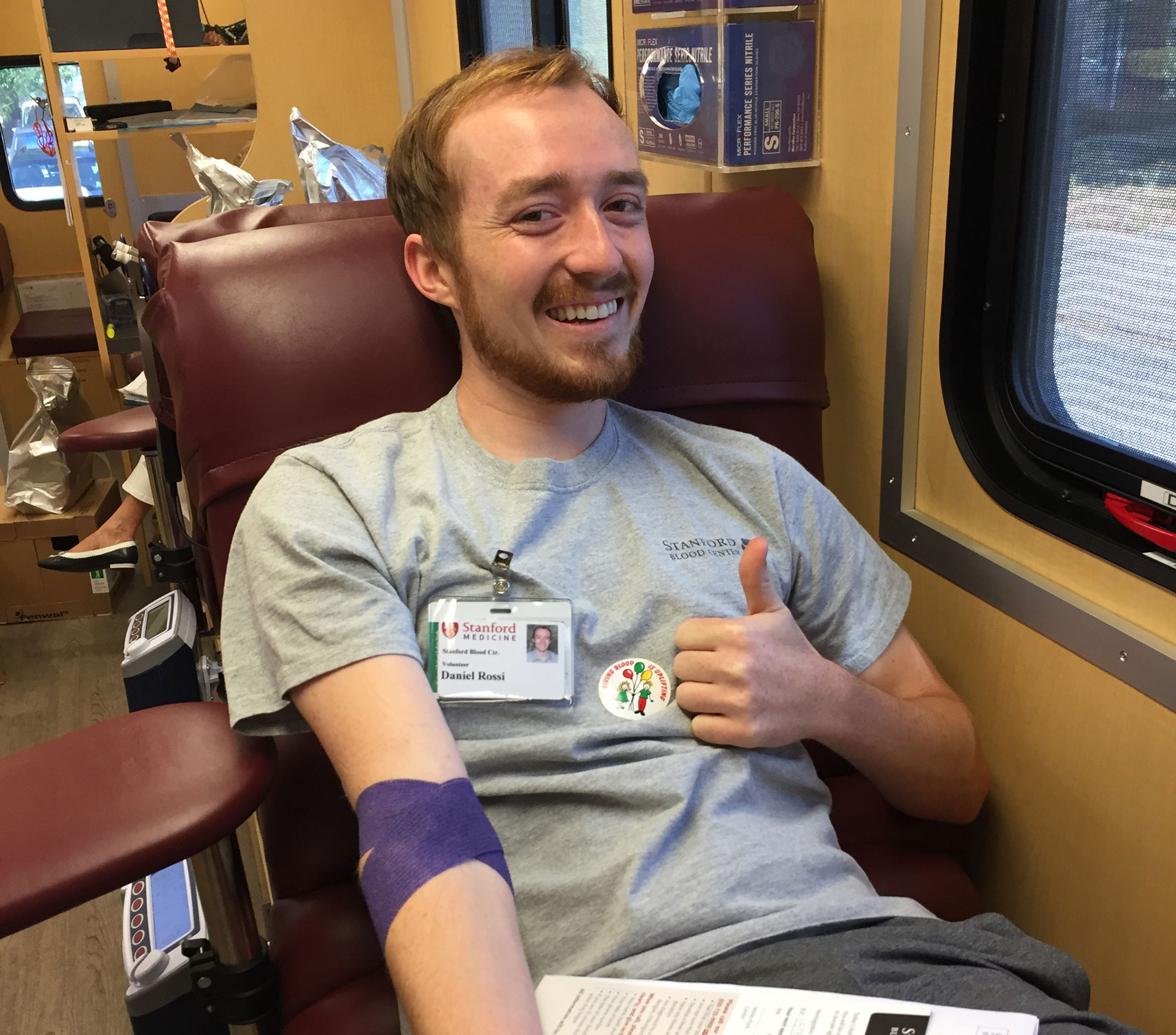 National Volunteer Week is coming up April 15 – 21, so what better time to introduce you to the latest edition to the SBC website…the Volunteer Spotlight. The newest addition to the Volunteer page seeks to highlight our amazing volunteers by helping us get to know them. Alison Hopkins, the Volunteer Services Supervisor here at SBC, put together a Q&A, and we will be featuring a different volunteer's answers quarterly.
Up first is Daniel Rossi.
Why do you volunteer at SBC?
I chose to volunteer with SBC after becoming a frequent blood donor, and fell in love with all the organization does. The level of community outreach they perform is staggering and incredibly unique, which makes it so rewarding to support an avid blood donor community.
What is your favorite thing about volunteering?
As a volunteer, I love watching first time donors walk in and sign up. It is always so interesting watching them come in (sometimes very nervous) and leave with nothing but confidence and smiles.
What are your hobbies/pleasures in life?
Catch me doing Zumba wherever and whenever I can. It's the one time where I can be as serious or goofy around other people and it doesn't matter because everyone just wants to have fun.
Where did you grow up?
[I've lived in] San Jose my entire life and wouldn't call anywhere else home.
What is one thing that would surprise someone to learn about you?
I own an unreasonable number of Martha Stewart books and magazines. It is a little embarrassing but I cannot tell you how many times I needed to make or do something and she has all the answers right there.
Do you have an anecdote or a story you have learned from a donor at SBC that really moved you?
Stories from Ava's Blood Drive are always so moving. Really, the stories talk of how a small blood drive in the memory of Ava has amassed triple digits of donors over all these years and continues to grow with every year. It is quite incredible how a community of donors have come together for such a touching and uplifting event.
And be sure to head over to stanfordbloodcenter.org/get-involved/volunteer every few months to check out the latest Volunteer Spotlight!
If you'd like to become a volunteer yourself, we are looking for volunteers to work in the canteens on weekdays! Perks of volunteering include flexible hours, getting to interact with our awesome donors, and of course, becoming part of the SBC family. If you're interested, email SBC-Volunteers@stanford.edu or call 650-723-6795.