By Julie Ruel, Social Media Manager, Stanford Blood Center
Voluntary blood donors are needed in countries throughout the world to help maintain a safe and sufficient blood supply. Finding these donors is often a challenge for blood centers. So, many advocates have created unusual awareness campaigns to promote the need. Here are some of the most inventive efforts we've seen.
• UK: Painted Blood Donors
The excitement of the London Olympics brings with it the risk of critical blood shortages for the UK this summer. More donors attending events or avoiding traffic means fewer donors in chairs. So back in April, as a preemptive tactic, blood donation supporters stepped out into the streets, nearly unclothed, painted with a heart on their chest and veins reaching to the tips of their fingers and toes in an effort to draw attention to the need for blood.

We'll guess they were successful at least in drawing the public's attention.
• Brazil: My Blood is Red and Black
The Brazilian soccer club Vitoria normally wears a red-and-black-striped jersey. To raise awareness for the need for blood donations, the team removed their signature red stripes and say they will gradually add them back as people sign up to give blood. Here's a visual: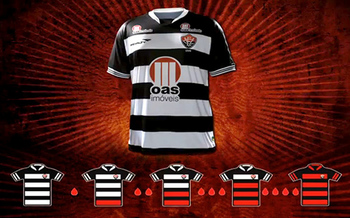 At a recent game, the players carried a banner onto the field that read, "Vitoria has always given its blood for you. It's time for you to give yours."
• Mumbai: Street Plays
Launched this year on World Blood Donor Day (June 14), the Mumbai District Aids Control Society ran a month-long "Street Plays" campaign in specific locations. With the constant swarm of people at Mumbai's train stations, they were the chosen venue for the blood donation-themed events. Performers entertained and crowds of people gathered around to observe. The Plays are said to appeal to the masses as the visual of the performances sticks in the mind. In addition, it's an effective way of communicating to those who may not be able to read the literature explaining the need for blood. Anybody else thinking of a BART-based blood donation flash mob?
• Russia: Torrent Your Blood Campaign
In an effort to connect with their target audience, the Blood Transfusion Service in Russia created a film about blood donation that could only be downloaded using torrent files. They felt the acts of donating blood and downloading torrents had an interesting relationship. "A user who downloads a file receives it in segments from other members on the torrent site. This is precisely the same principle as in blood donation."
Though seen as "slightly dodgy and illegal", it attracted over 1,000 viewers who pledged to give blood.
• Kuala Lumpur: 800-Pint Target
During the month of Ramadan each year, several Lion's Club districts in Kuala Lumpur organize the Give Blood, Save Lives campaign to aid The National Blood Bank. Some of the incentives offered for free are taxi rides to the donation site, eye exams, hampers, rice cookers, and bicycles. With a goal of collecting 800 pints of blood in one day, this year they drew 854 pints. In seven hours. Sounds exhausting, but well worth the results!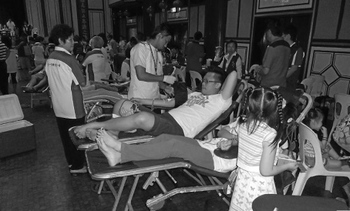 Click here to read about how a few nations celebrated World Blood Donor Day this past June.