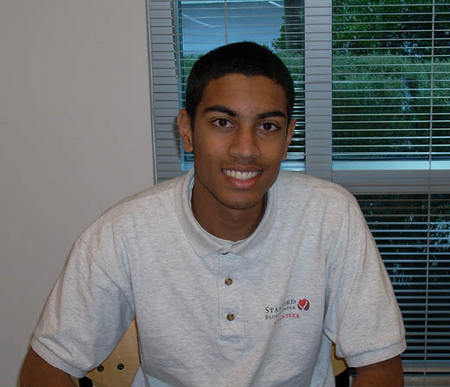 By Julie Peachey, Social Media Manager, Stanford Blood Center
Our staff members are occasionally asked if their positions at Stanford Blood Center are volunteer roles. This question often engenders a chuckle from those imagining their full time jobs being full time volunteer work. But although our nursing, administrative, and other operational staff are paid employees, we do have a variety of volunteer roles to help us achieve our goal of providing blood products to patients in need. In fact, there are over 100 active volunteers who together donate 300-400 hours per week to SBC to help our operation run smoothly.
Our volunteers include a variety of people including students, retirees, and those exploring career changes. Neal Biswas, pictured above, started volunteering in our canteen a year and a half ago to earn community service hours for a school requirement. Though he's met the requirement, he's been motivated to continue volunteering. "My favorite part of volunteering with SBC is interacting with the donors after they have donated. Its always fun to talk to them, whether they are telling me about their reasons for donating blood, giving me college advice, or even just talking about sports."
Volunteer shifts are available during the day, evening, and weekend at our center locations and mobile blood drives. Shifts at our centers are about 2 ½ hours and can be on a consistent schedule or an occasional basis. Mobile drives take place in a variety of settings and locations, allowing the volunteer to choose something that fits their schedule.
* * * * * * * * * * * * * * * * * * * *
Volunteer Positions
Canteen»
Interact with donors after they've donated and monitor their recovery. Serve refreshments.
Label Table»
Work with the nursing team by labeling medical history forms, blood bags, and test tubes, and then matching them all to donors. Label table volunteers help at blood drives only.
Shuttle Drivers»
Transport coolers of blood products from the blood drives to the labs at the Palo Alto Center. Shuttle volunteers use their own cars and SBC reimburses for mileage.
Administrative Positions»
Help with making phone calls, putting together information packets, filing and clerical work, and the occasional special event. This work is needed in various departments.
Laboratories»
Support the Components and Histocompatibility Labs by filing, labeling, and making tags. These labs are located at the Palo Alto Center.
* * * * * * * * * * * * * * * * * * * *
Our volunteer program is an integral part of SBC. To participate, please contact Tessa Moore: tessamoore@stanford.edu.