By Julie Ruel, Social Media Manager, Stanford Blood Center
As a blood donor, you are a giving individual by design. We're certain you would donate without recognition and regardless of the day's giveaway. That said, it's important to our organization that we don't take the people behind the blood donations for granted. You are part of a very important, very small population and your loyalty to patients in the community deserves to be recognized.
Our Loyalty Program was designed for the different types of donations available, with an emphasis on frequency of visits. Taking into consideration the different lengths of deferral for each, there are a variety of clubs under our Program's umbrella.
Annual Frequency
∙ Four Seasons Club: Donating four times* during the calendar year (Jan. 1 through Dec. 31) earns you our popular long-sleeved Four Seasons T-shirt. Each year we unveil a new design, making this a fun item to collect.
The 2012 T-shirt:

Upon your fourth donation, you'll receive an email with instructions on how to order your shirt. Not sure if we have your email address on file? Log on to your donor account, then click on "My Profile".
*Double red blood cell (DRBC) donors earn this shirt after two donations due the 16-week deferral period.
∙ Ten Times in 2012 (2013, 2014 and so on): Similar to the structure of the Four Seasons Club, once you reach your tenth donation within the calendar year, you've earned a special gift, which we change each year. The gift for 2012 is a 60″ metal shaft umbrella seen here: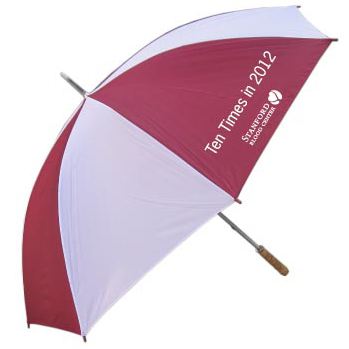 If you plan on making ten donations this year, please make sure we have your email address on file by logging on to your donor account. We'll need this in order to send instructions on ordering the gift.
Points Per Visit
Did you know each time you visit us, you earn points to use in our online store? Below is a guide to point accumulations, which reset on Jan. 1 each year:
▪ Visit 1 = 100 points
▪ Visit 2 = 125 points
▪ Visit 3 = 150 points
▪ Visit 4+ = 175 points

This applies to whole blood, platelet, and RBC + plasma donors.
DRBC donors have a slightly different schedule:
▪ Visit 1 = 200 points
▪ Visit 2 = 225 points
▪ Visit 3 = 250 points
To check your point balance and browse the online store, please log on to your donor account here.
Total Lifetime Donations
Those who are able to reach a total of 100 or more lifetime donations join our Precious Mettle club. On the day of the 100th (200th, 300th, etc.) donation, we'll have a small celebration including a banner showcasing your milestone plus a bag of gifts for you to take home. With your permission, we'll take a picture of the celebration and feature it on our Facebook page.
In addition, each fall, we host the Precious Mettle Breakfast, a catered event at an off-site venue. Donors enjoy the warm atmosphere of good company, along with guest speakers, breakfast buffet, and no needles!
Membership in each part of our Loyalty Program happens automatically as the different milestones are reached. We keep track of your donation history for you, though we certainly encourage you to do so as well in order to stay on track with your routine!
Questions about our Loyalty Program? Contact Jennifer at czks@stanford.edu or 650-724-7187.