By Julie Ruel, Social Media Manager, Stanford Blood Center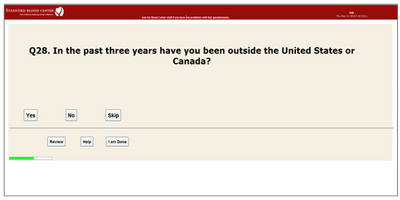 One common question we hear from blood donors is, "Why do I need to answer the same questions each time I come in to give blood? Can't you keep my responses on file?" We cannot and here's why. The Food and Drug Administration (FDA) requires that all blood centers ask all blood donors all questions on the day of each blood donation as a safety measure. Honesty and consistency in answering these questions is critical. The safety of the blood supply and the patients receiving the blood depend on truthful answers.
Today at our Hillview Center, we're very excited about the launch of a new system for the registration process called Donor ID. As mentioned above, we'll still ask the same health history questions each time, but this new technology will streamline the process. Instead of answering the questionnaire with a pen and paper, donors will review and answer questions using a computer touch screen.
Phillip King (below, in chair) was our very first donor to try out the new software. Gathered around him are several SBC staff members, happy that the process is running smoothly!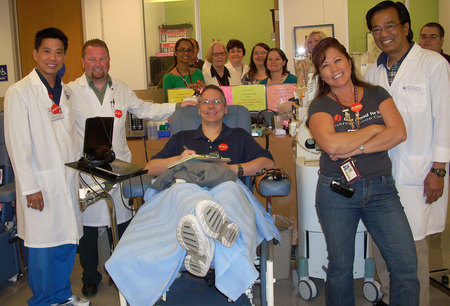 Some of the benefits of Donor ID:
• streamline the registration process for blood donors
• reduce the likelihood of transcription errors by eliminating some of the manual data entry
• reduce the overall amount of paper produced
Donor ID will be rolling out at our other two Center locations plus mobile blood drives throughout the summer months.
The below video highlights the donation process from start to finish, including a demonstration of the new registration process: