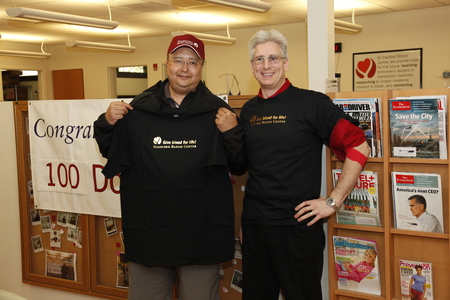 Friends Roy Tuason and Erik Klein gave their 100th donations together on Tuesday, 3/6 at our Mountain View center. Their wives, friends and co-workers joined them on this special day with many of them donating as well.
Here, Roy shares a little about himself and his buddy, Erik, and how they got started donating blood.
Erik and I have been working together at the same company since 1996, and are two of a group of co-workers who have been donating together regularly. We work in Sunnyvale for a medical device company developing cancer treatment software and hardware.
Erik first donated blood as a senior in high school back in New York State. He donated a few times after that, usually at organized blood drives. He did not become a regular donor until introduced to Stanford Blood Center (SBC) by a group of co-workers in 2002. Once introduced to the wonderful folks at SBC he quickly became a regular donor, joining his group of co-workers when they visited the Mountain View center. All but four of his donations have been at Mountain View. After donating four gallons of whole blood between 2002 and 2008, Erik began donating platelets in addition to whole blood. He currently donates platelets every two weeks almost without fail. In Erik's words, he "comes for the POG (passion orange guava juice) and stays to help those in need."
In addition to being a regular blood donor, Erik is a volunteer docent at the Computer History Museum in Mountain View. His passion for computer history has led him to build a collection of well over 100 vintage machines and to start a website devoted to the hobby and designed to serve the collecting community with forums and a marketplace. Erik is also interested in photography, vintage cars and just about anything else he can't really afford.
My first donation was in 1980 when I was stationed at my first military base. A mobile blood bank came in, donations were encouraged, and I found out it was easy and the body simply regenerated the blood anyway. So why not? The process was simple and (well, almost) painless, and the need to replace blood for injured service men and women was clear, so since then I have been a regular donor. I started donating at SBC in March 2003. My first platelet donation was in May 2004, and my 50th donation was in August 2009. Soon after that I became a regular platelet donor. I find the staff at Stanford caring and careful, and a fun, friendly and professional group.
I'm active in my church and with youth ministry, and also an instructor with the Motorcycle Safety Foundation. I am a 13-year USMC veteran and my wife and I, when not attending car club events with our 1963 classic, enjoy motorcycle trips together. I have ridden on separate trips to Fort Sill, Oklahoma, Phoenix, Denver, and St. Louis. In the 200,000 motorcycle miles I've logged, I fortunately have never needed to receive any blood products (knocking on wood as I type this). I have traveled to 49 of the 50 U.S. states and look forward to my first trip to Alaska.
Thanks, Roy and Erik, for being fun, interesting, life-saving heroes!