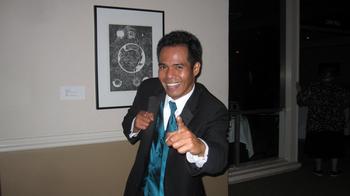 By Melissa Ramos, volunteer guest-blogger for Stanford Blood Center
John Paul Mayor is one of our very regular platelet donors. For our #WhyIGiveBlood campaign, we picked his brain about what inspired him to become a regular donor.
John Paul, or "JP" as he is known, started donating whole blood as a high school student in 2000, but it was not until he was 23 that he became inspired to be a regular donor. Through Team in Training, he had the opportunity to meet patients with blood cancers. Some might be content having raised over $7,000 for blood cancer research, but not him. He became a regular blood donor, knowing that these donations will help those patients live comfortably and normally. When he learned about donating platelets, and that he was eligible for this type of donation, he jumped at the opportunity and has become a regular fixture at our Centers since.
JP knows a thing or two about donations and has some tips to share:
• He prefers to donate on Mondays at Hillview, when he gets free movie tickets
• Staying hydrated leading up to your appointment helps speed up your donation time.
• Wearing a zippered hoodie will keep you warm and won't get in the way during your donation.
JP has become a close friend of the staff at SBC. Not only does he make time to donate between his two jobs, but he has been known to show up with a home-made chocolate mousse cake covered in ganache from time to time.
What has inspired you to become a regular donor? Share your story with us!