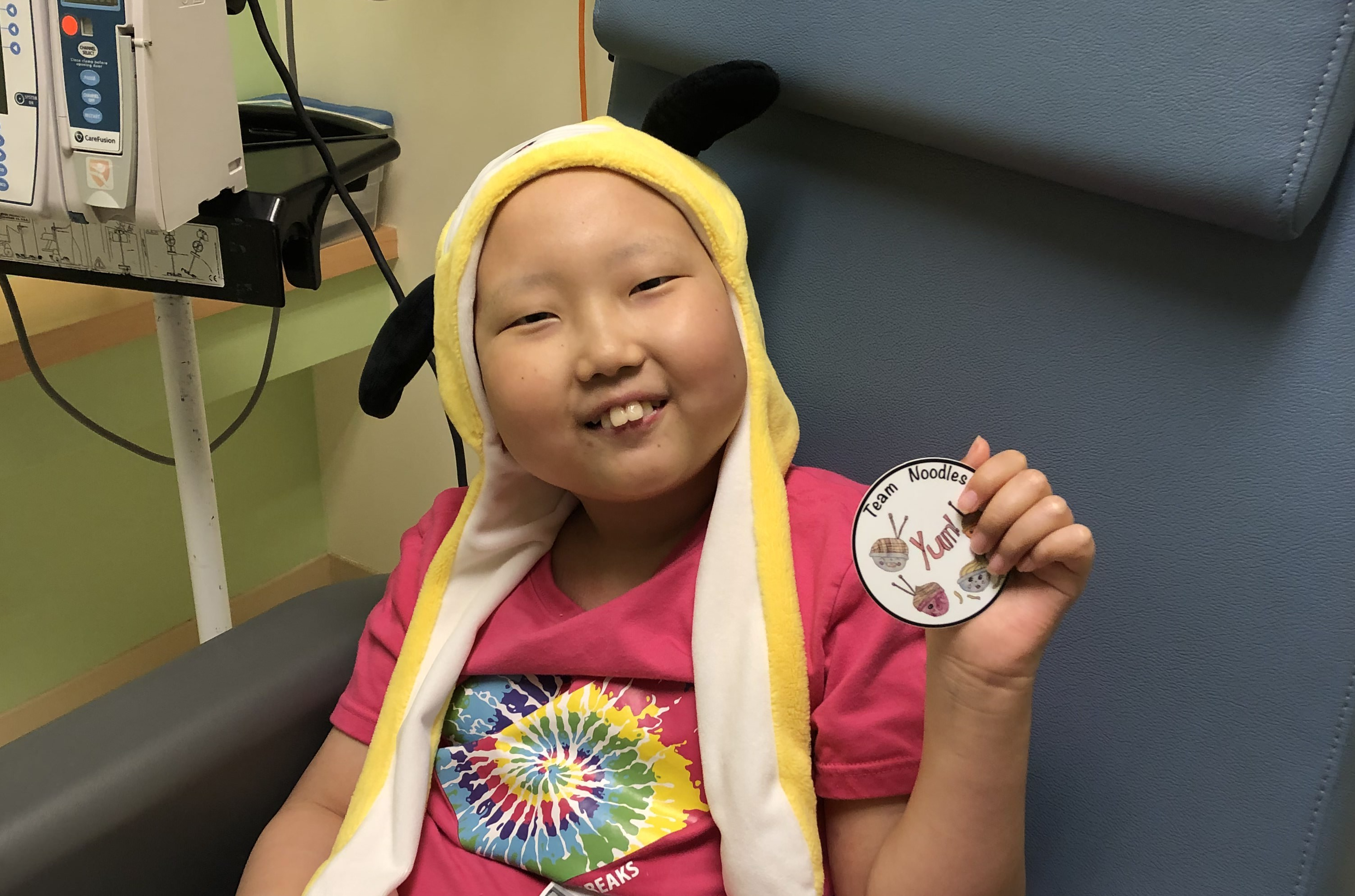 By Krista Thomas, Communications Strategist
August 5, 2020, was one of the most frightening days of Jennifer Yu's and Tom Li's lives. It was on that Wednesday that they found out what had started as just frequent bloody noses in their eight-year-old daughter, Zoe, was a sign of something far scarier and far deadlier than they had ever fathomed.
The first sign that something was off with Zoe that summer was just how often she started getting bloody noses. While she had had them growing up, they were becoming too frequent for comfort. Then one day in late July, Zoe had a bloody nose that simply wouldn't stop bleeding.
"We took her to urgent care and they cauterized her nose. That helped for a few days. But then, it happened again a few days later, and this time, she got dizzy and threw up," Jennifer said. On August 5, Tom took Zoe to her pediatrician's office for some additional bloodwork, expecting to find out she had anemia.
At 9:00 a.m. that morning, however, Jennifer and Tom got a life-changing call. Based on her bloodwork, it was clear to doctors that Zoe had a very severe case of acute lymphoblastic leukemia  — so severe, in fact, that 99% of her blood cells were now cancer cells. "They told us we need to pack a bag and get to the ER right now," Jennifer said.
When they got to Lucile Packard Children's Hospital Stanford, Zoe got another bloody nose, and the family got more terrifying news. "Everything started falling apart so quickly," Jennifer said. "Zoe developed red dots on her skin called petechiae, which was a sign her platelet counts were extremely low. And they told us everything was shutting down — her kidneys, her liver. I kept thinking she was going to die right in front of me."
While doctors typically do a spinal tap and other prep before delivering treatment, in Zoe's case, there simply wasn't the time. She began receiving transfusions and chemotherapy immediately while in the pediatric intensive care unit, eventually transferring to the oncology floor where she stayed for a month. Given the severity of her blood counts, Zoe received "nearly constant" transfusions. Over the course of that first month, as she progressed with treatment, her improvement was really visible.
Zoe was released at the end of August 2020 and, though she is generally considered to be in remission, her treatment plan is a long one, and she has been an in-patient since then no less than 10 times due to in-patient  procedures and related health scares.
"One of the most difficult parts of this has been that, because of COVID, we can only have one parent there at a time for outpatient visits," Jennifer said. For both Jennifer and Tom, having to be away from Zoe during these critical moments has been challenging. The main thing that keeps them going, though, is Zoe's own positivity.
"As a parent, it's so hard. You can try to prepare yourself, but it's so different when it's your own child, and it's unnatural to feel like your child might be the one to die before you. Now, we just try to take things day by day. One thing Zoe tells us is, 'This is tough, but I can handle it. I'm tougher,' and so we try to be tough, too, for Zoe," Jennifer said.
Despite how trying treatment can be, Zoe keeps her spirits up and continues to bring joy to everyone around her in exceptional ways. For example, Zoe loves Harry Potter and, during one of her hospital stays, she organized a Harry Potter-themed drawing contest and involved all the doctors and nurses. She also loves music and persuaded the hospital's music therapist to create a music video with her and her stuffed animals!
Now, one to two times a week, Zoe goes to the Stanford Bass Center for treatment and transfusions, and is recognized by a particular yellow hat she wears that has long ears she can make flop up and down, which never fails to bring a smile to the staff's faces. As for Jennifer and Tom, they continue to support their daughter as best as they can and are extremely thankful for the outstanding help of their care team and all of the blood donors who have made Zoe's recovery possible.
Both Jennifer and Tom have started donating blood with Stanford Blood Center since Zoe's diagnosis. Given how personal donation has been for them, Jennifer says even just visiting the center can be a bit overwhelming. Jennifer recalled, "The first time I stepped into the blood donation center, I was so overcome with emotion that I nearly broke down in tears. I was in a room full of people leaning back in comfortable chairs, arms outstretched, chatting with others or reading on their phones as they listened to the upbeat music playing on the speakers. It was such a casual, laid-back atmosphere that probably just felt like any other typical day for the people in there.
"But, for me, it was anything but typical, because now I have been to the hospital too many times and have seen what happens on the other side. All I wanted to do at that moment was run around and hug every person in there while shouting, 'THANK YOU! Thank you for saving so many lives. Thank you for saving my daughter's life.'"