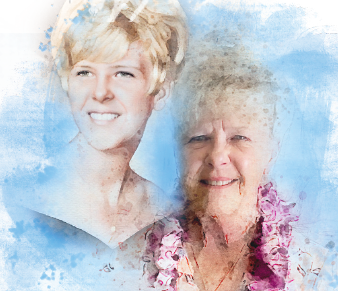 August 22, 1950 – May 18, 2020
It is with deep sadness that we inform our donor community of the passing of one of our charge nurses, Susan Belanger, on May 18, 2020.
For nearly 20 years, Susan, Sue B., Belanger was an integral part of the SBC collections team. She left an indelible impression on everyone who knew her and helped save countless lives through her work as a registered nurse.
Although she was born in Bakersfield, Sue's family moved to Milpitas, where she met her husband, Greg, at the age of 12. She graduated from Samuel Ayer High School in 1968 and married Greg on June 14, 1970 at St. Victor's Catholic Church in San Jose.
Sue worked as a telephone operator at Pacific Bell Telephone Company. She was adventurous and brave when she and Greg moved to the Philippines and Indonesia with their young children between the years of 1977 and 1986. During this time, she and her family traveled extensively in Europe and Asia.
Education was important to her and, after returning to the U.S., Sue pursued an AS degree in nursing and AA degree in psychology from Evergreen Valley College, graduating in 1992, and worked for several years in oncology at Good Samaritan Hospital.
Sue began a "second career" in nursing in 2001, when she became a charge nurse here at SBC, where she worked until her death. Sue was inspired in her journey to help patients by the experience of her son, Geoff, who was encouraged to join the Blood Center many years ago by his mother. Geoff was born with diamond blackfan anemia and received multiple transfusions at a young age, which made Sue even more engaged in patient care and treatment. After joining SBC, Sue also pursued a BA in psychology from San Jose State University, where she graduated Magna Cum Laude in 2002.
Sue was passionate, lively and opinionated.  She loved movies and books and lamented the downfall of TiVo. Sue loved the holidays, especially Christmas, and later in life took to setting out giant lawn decorations as a way to celebrate the season.
Sue was hardworking, selfless and generous; both a counselor and a confidante. She was a dedicated wife and mother and took great pride in raising her three children and keeping a beautiful home. Structure and routine were important to her, with dinner at 6:30 every night as a family. This was balanced by her love of celebrations and fun.
She was so proud of her family and their accomplishments. Their education and achievements gave her a sense of fulfillment in being a good mother and provider, setting her children up for success in life.
Later in her life, once her children were grown, Sue and Greg continued their travels. They loved having adventures in their favorite places, including, Cancun, Lake Tahoe and Hawaii.
Sue loved spending time with her family, especially her grandson Giovanni, and she was ecstatic about the birth of her second grandson, Sebastien.
Sue touched the lives of everyone she met. Words cannot express how much she was loved or how much she will be missed.
Shortly before her passing, SBC released an article about Sue and Geoff in honor of Mother's Day 2020. You can learn more about their relationship and her passion for supporting others by reading more here.
---
Read more of winter 2021 PULSE at stanfordbloodcenter.org/pulse.