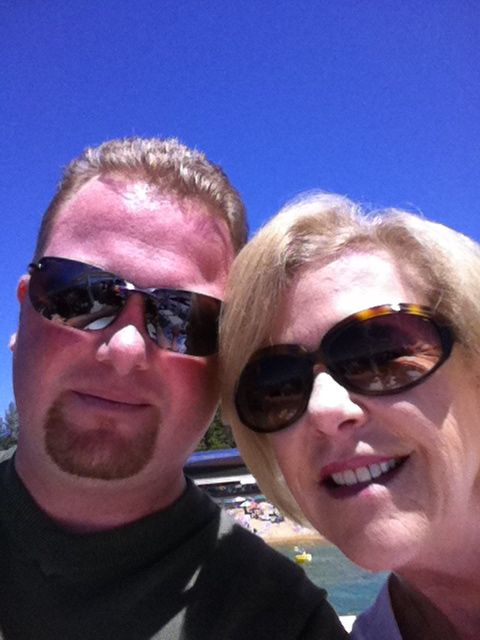 Note: Sue Belanger sadly passed away on May 18, 2020. Sue B. was beloved by her SBC family and donors and is greatly missed. You can read more about her legacy in her obituary, here, written by her son Geoff.
—————
Geoff Belanger, Performance Improvement Analyst,  has worked at Stanford Blood Center for 17 years in a variety of positions. His connection to blood banking and SBC specifically, however, goes much deeper, is much more personal, than his day-to-day role.
Soon after Geoff was born, he was diagnosed with Diamond-Blackfan anemia, a blood disorder that means his bone marrow did not produce enough red cells, which in turn could prevent his tissues from getting enough oxygen. In his early years, Geoff had to receive many blood transfusions, most of which came from SBC, and some of which even came from his own mother, Sue Belanger.
When Geoff was young, Sue was an oncology nurse. However, as Geoff grew up and the family had to adapt to his blood disorder, Sue was inspired to learn more about blood banking. In 2001, shortly after Geoff had gone off to college, she decided to further develop her passion by becoming part of SBC's Collections team — the very team that had helped her son receive critical treatment as a child.
Two years later, Geoff had graduated college and was struggling to find a job in his field, so his mother suggested he apply to be a phlebotomist at SBC, where he would get all the training he needed to apply his skills to a new field. Though he initially envisioned his role at SBC as a temporary detour on his career plan, Geoff found himself developing his own passion for blood banking and used his own experience to inform and inspire what he was doing each day in Collections.
During his first several years at the blood center, Geoff worked on the same team as Sue, and they got to spend quite a bit of time together. "We used to have a bus called The Turtle Top, which was a small bus meant for two Collections team members and a driver. She and I worked that bus together often, and it was a lot of fun. We would even get requests by local companies for the 'mother and son team' to come out to their drives," Geoff recalled.
In 2014, Geoff transitioned out of Collections and into data analytics on our Operational Excellence (OpEx) team. And while his mother is now close to retirement age, she continues to work part-time at SBC because she simply "loves working here, loves the donors, loves going out to drives and doesn't want to give that up," Geoff said. Though they don't work in the same department anymore, the two still see each other occasionally at work and (much to their partners' chagrin) often spend their regular family get-togethers talking excitedly about the Blood Center as well.
The family's tie to blood donation doesn't stop there, however. Just three weeks ago, Geoff's world was radically transformed when he became a father for the first time to a baby boy, Sebastien — a precious boy who has the same Diamond-Blackfan anemia as his father. Though obviously ecstatic at the birth of his son, the first few days were also stressful, as Sebastien needed transfusions within 12 hours of birth and Geoff and his wife were trying to figure out what their son's condition meant for his health, development and treatment as they spent several days in the NICU meeting with pediatricians and hematologists.
"In those first few hours after he was born, I was so thankful I could call my mom and get her advice. She reminded me of how it was for me and how we got through it. I'm so grateful for how she was there for me then, and how she can still help me through things now as I look to her great example in helping my own son," Geoff said.
While his own experience and his mother's experience have already been a wonderful source of inspiration for him, Geoff said, "Now that I have a son who may go through a similar thing as I did, it has made my choice to work at SBC much more meaningful."